Executive Summary
Curtis Granderson hit a second-inning grand slam and a fourth-inning solo shot. Matt Harvey was thoroughly mediocre, but the Braves' bats were worse. Mets 6, Braves 3.
Discussion and Analysis
Almost all you need to know about tonight's game took place in the second inning. In the top half, after Neil Walker flew out to center, Asdrubal Cabrera earned a free pass on five pitches, then Travis d'Arnaud worked a 10-pitch walk. That brought up Harvey in what has historically been and continues to be a bunt situation. Harvey squared to bunt and did bunt foul on a 1-0 count. On 1-1, Harvey butcher-boyed but swung through the pitch. On 1-2, Harvey bunted right back to Norris, who Jon Lestered the ball toward third base, loading the bases with one out. That brought up Granderson, who hit a line drive grand slam on the seventh pitch he saw.
In the bottom of the second, Harvey couldn't retire the likes of Adonis Garcia, A.J. Pierzynski, Kelly Johnson and Mallex Smith. Three singles and a double later, the Braves had cut the lead to 4-2. Harvey didn't have much all night. The Braves came into the game with a mere .230 True Average, but Harvey made them look like the never-strike-out Royals: Harvey induced just four swinging strikes in five innings of work. He earned the pitcher-win only because Yoenis Cespedes made a perfect throw from center field to cut down Nick Markakis at the plate. Nobody's made a .gif of Yo's throw because the White Sox turned a crazy triple play and Yasiel Puig had the throw of the year, and it's only April.
#MetsTwitter was rightly concerned that Harvey was leaving everything up and over the plate. But it was just last season when the Dark Knight possessed the kind of swing-and-miss stuff that allowed him to get away with occasionally poor command. This chart shows the rate at which opposing batters whiff at Harvey's pitches: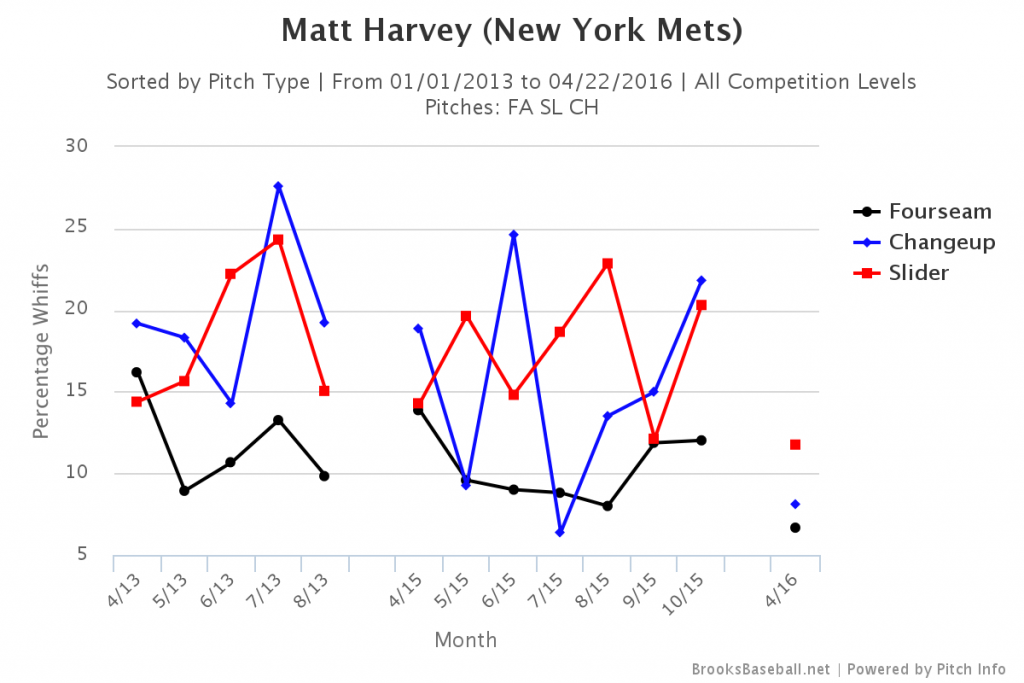 Yeah, it's early, but the whiff rate on Harvey's fastball, slider and change are all down by half or more from 2015 to 2016. None of us know the cause for the steep decline, but we do know that a Harvey who can't strike batters out will be hard-pressed to duplicate his past success.
Back on the bright side, Granderson's dinger in the fourth seemed to come on the same pitch and the same swing as the second-inning salami. We're still in #SSS season, so it's possible for Granderson to have entered today's game hitting .175/.299/.368 and finished it hitting .213/.324/.492, raising his OPS 149 points in the process. The Mets have now hit 20 home runs in 7 games on this road trip.
We don't often sympathize with Atlanta fans, but it's gotta be tough to watch a major-league team throw Bud Norris every five days. The tanking Barves know what they're getting with Norris. Hopefully, you've got him on your Hacking Mass squad. Fans at the game suffered through more than a poor start from Norris. Home plate umpire Jeff Kellogg was forced to leave the game after getting hit in the mask with a foul ball. That caused a 10-minute delay while a replacement donned the equipment. A 56-minute rain delay between the top and bottom of the eighth inning caused the game time to stretch over four hours.
The bullpen continues to shine. Antonio Bastardo struck out three in 1 2/3 innings. He would have had two perfect innings except for a swinging bunt by Daniel Castro, which extended the frame long enough for Freddie Freeman to end an 0-for-19 slump against Bastardo with a single. Terry Collins brought in Jim Henderson to face Adonis Garcia, but Garcia singled to bring home Castro. Playing matchups, Collins called for LOOGY Jerry Blevins to face lefty A.J. Pierzynski. After falling behind 2-0, Blevins came all the way back to punch out the Braves' catcher. Addison Reed dominated the eighth inning, getting four outs — two by strikeout, and two by ground ball to shortstop. Cabrera threw away his first chance but cleaned up the second one. Jeurys Familia struck out one more — giving the Mets' relievers seven K's in four innings — and the Mets put it in the books.
Contemporaneous Thoughts
The difference in both stuff and command between Syndergaard and Harvey is striking.

— Scott D. Simon (@scottdsimon) April 23, 2016
GKR-isms
"I don't want to pretend I have expertise on pitching mechanics." — Keith
"Until [Harvey] figures his way out of the wilderness, he might be a little ornery." — Gary
Coda
It'll sure be nice facing Gwinnett all season. Tomorrow, it's Steven Matz against an anonymous scout and Jhoulys Chacin.
Photo credit: Brett Davis – USA Today Sports