Executive Summary
On the anniversary of Noah Syndergaard's Citi Field debut, Thor bettered Max Scherzer and made two solo shots stand up. Mets 2, Nationals 0.
Discussion and Analysis
Noah Syndergaard's dominating performance last night overshadowed:
Max Scherzer's next start after striking out 20 Tigers
Daniel Murphy's return to his old stomping ground
Bryce Harper's first Citi Field appearance after winning the 2015 MVP
Matt Reynolds' surprise MLB debut
But that's what a 7 5 0 0 0 10 line will do, almost every time. Reaching 100 pitches with one out in the seventh inning, the Mets' bullpen was utterly motionless. At one point between the third and fourth innings, Syndergaard rang up five consecutive outs by K.
The Mets managed just two hits against Scherzer through six innings. Both left the ballpark. When Scherzer has shown a weakness this season, it's been the longball. His 12 home runs allowed lead the National League. Even in Scherzer's 20-strikeout gem, he allowed home runs to Jose Iglesias (!) and Victor Martinez. Against the Mets, Scherzer's first pitch was driven over the right-field fence by Curtis Granderson, his third leadoff round-tripper of the season. Michael Conforto smacked a line drive to nearly the same spot with two out in the third. The Mets eked out just two other hits all nights, but the dinger-based economy continues to roll.
Fans at the ballpark were expecting such a fabulous pitching matchup that they could afford to be magnanimous toward new National Daniel Murphy. In pregame introductions, Murphy received perhaps the longest ovation for a non-Met since Mike Piazza's appearance as a Padre. Murphy's first at-bat following the applause was anticlimactic, as he popped-out foul to third base. Notwithstanding his team's loss, Murph's first game back was an individual success, as he blooped one of the Nats' five hits on the night, did not strike out against Syndergaard, and
Daniel Murphy knows this Citi pretty well: https://t.co/adZAVppFSs pic.twitter.com/Ti2okeEWOq

— MLB GIFS (@MLBGIFs) May 17, 2016
Bryce Harper was not greeted as warmly by the Citi Field faithful. "Fans don't boo nobodies," Reggie Jackson once quipped. Harper tapped back to Syndergaard in the first and struck out in his next two at-bats. With two out and nobody on in the ninth inning, Harper hit a sharp groundball into the 5.5 hole, where the Mets' shifted defense had him played perfectly. Some fans at the game treated the Harper oh-fer as the evening's highlight.
The back end of the Mets bullpen was perfect after Syndergaard hit the showers. Addison Reed and Jeurys Familia combined to strike out three in the final two frames.
On a night like this, it's hard to find the gray cloud in the silver lining, but the team must be concerned that both David Wright and Lucas Duda missed the game with back maladies. The lineup was so weak at the bottom that Syndergaard became the first Met pitcher this season to bat eighth. Rookie Matt Reynolds batted ninth in his first MLB appearance and did not reach base. Reynolds did, however, bring a solid glove to third base: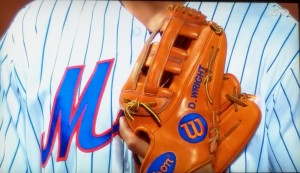 Contemporaneous Thoughts
I would have paid money to watch Keith Hernandez read Ulysses. #mets

— Jason Fry (@jasoncfry) May 18, 2016
GKR-isms
"Like Caesar going home to Rome for a triumph." — Keith, on Danny Murphy's return
"Gotta watch Murphy at first base; he's known for doing unorthodox things on the bases." — Keith
"If you want to dominate at this level as a starting pitcher, you have to combine power with precision, and that's what Noah's been for the first eight starts." — Ron
Coda
The win brings the Mets within a half-game of the Nationals for first place in the NL East. Bartolo will have the platoon advantage when he bats today against Gio Gonzalez.
Photo credit: Adam Hunger – USA Today Sports