The New York Mets boast one of the best young rotations in all of Major League Baseball. Despite this, one of their best young pitchers has not been on the mound at Citi Field since 2014. This pitcher that I speak of is Zack Wheeler, who is hoping to return in July from Tommy John surgery. With recent bone spur problems for both Steven Matz and Noah Syndergaard and Matt Harvey going on the disabled list, the Mets might need to rely on Wheeler more than they expected down the stretch either as a starter or long reliever.
A highly touted high school prospect, Wheeler was selected sixth overall in the 2009 MLB Draft (the Mike Trout draft) by the San Francisco Giants out of East Paulding High School in Georgia. He was traded to the Mets in 2011 in exchange for the expiring contract of Carlos Beltran. After two straight years of being the top prospect in the Mets system–#27 overall in 2012 and #6 overall in 2013 by MLB.com–Wheeler was finally called up during 2013. He pitched strongly in both 2013 and 2014, helping to create a one-two punch along with Matt Harvey in 2013 and with Jacob DeGrom in 2014 while Harvey was out with Tommy John surgery. However, it was not meant to last; it was announced that Wheeler tore his UCL on March 16 and underwent Tommy John surgery 10 days later. Now, over a year later, it is finally time for Zack Wheeler to return and help lead the Mets back to the playoffs. But for those who don't remember what Wheeler brings to the table, let's revisit his skills.
Wheeler possesses a repertoire of five pitches: a four-seam fastball, sinker, changeup, slider, and curveball.  Through his short career he has thrown his fastball 50 percent of the time at an average velocity of 96 mph, followed by a combination of a sinker which also hits 95.5 mph and an 89 mph slider.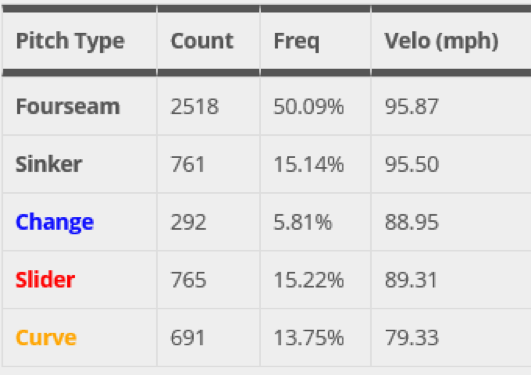 While Wheeler does rely mainly on his fastball, he tends to use it most during the first time through the order when he is strongest and can throw it the hardest. Once he gets to the second part of the batting order, he has relied more heavily on his off-speed pitches using more changeups and sliders.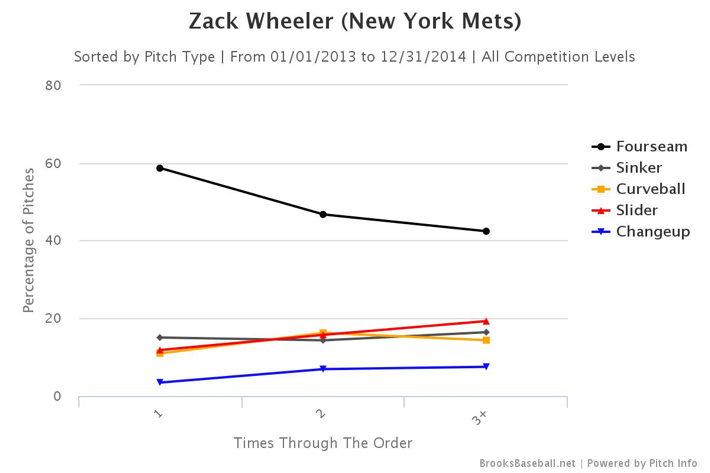 Despite limiting his usage of his fastball the third time through the order, the batting average against it increases dramatically. In particular, going from .228 and .235 when he faces opposing batters the first two times to .314 (a 137 percent increase) the third time through the order. A similar trend holds true for his sinker and slider.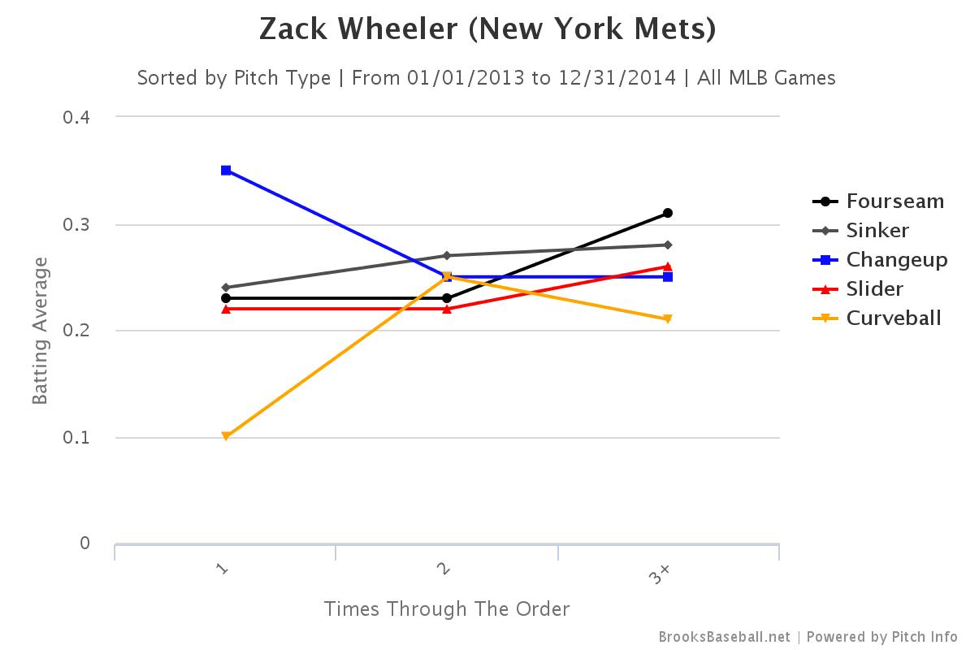 While some of these statistics do not seem all that promising, it is important to remember that Wheeler has had a limited career, pitching less than two seasons. Wheeler has only started 49 games in the major for a combination of 285 innings. His whole career is still a limited sample. Even in this small sample, the sample size decreases more from first time through the order to the third time through the order as Wheeler was on a shorter leash when he pitched. Also, with Wheeler coming off of Tommy John surgery, Dan Warthen and the rest of the Mets pitching coaches can choose to handle him with kid gloves. All this being said, limiting Wheeler's innings could make him more effective the rest of the year if he can effectively manage how hard he is throwing and his usage of off-speed pitches.
The other important thing to note for Wheeler is how he pitched when he was in the majors in terms of statistics relative to the rest of the league. In 2014, Wheeler finished 30th in the league in terms of FIP (3.55) and 35th in terms of xFIP (3.49) of all pitchers who qualified for stats that season according to FanGraphs (out of 88 starters). One place he was particularly successful was striking out 9.1 batters per nine–good enough for the 12th-best mark in the league. However, he struggled with walks. He finished 83rd in the league (or sixth-worst) with 3.84 walks per nine. If he struggles with walks while at the same time striking out a lot of hitters, it will keep his pitch counts up. This will need to be monitored as he returns from Tommy John surgery–despite the commonly-held notion that innings pitched is more important to watch. The more pitches Wheeler throws the more tired he will get and leave him susceptible to getting hit hard as he faces opposing batters multiple times.
Despite all of this, there is reason for excitement as Zack Wheeler returns. Wheeler was almost traded multiple times while recovering from Tommy John surgery, first to the Milwaukee Brewers in the botched Carlos Gomez trade and a second time to the Cincinnati Reds for Jay Bruce. Yet Wheeler has stated that he wants to be a Met; even calling up Sandy Alderson and stating that he wants to be part of the team going forward. This is the kind of player that fans should want on the Mets. Wheeler is a player who wants to be on the team; a player who wants to create a big five with Harvey, deGrom, Syndergaard and Matz and be part of this lethal young rotation. We still do not know how good and effective Wheeler will be as he is still rehabbing, but he wants to be part of something special. There is still hope to bring home a World Series to Flushing this year and hopefully Wheeler is just a missing piece that can finish the puzzle.
Picture Credit: Steve Mitchell-USA TODAY Sports