Mets News
Before last night's game, Jay Bruce's 2017 slugging percentage (.870) was nearly 200 points higher than his OPS with the 2016 Mets (.685). He's buoyed the Mets offense this season. Some say Bruce's Mets-debut-slump is over. Others are already using Bruce's hot start to justify the Mets' decision to bury Michael Conforto, even though 23 at-bats is less than halfway to the theoretical maximum number in which a player can hit just about anything. Let's check in again this time next month to see if baseball writers remain as sanguine about the Mets' Bruce as the other one.
MEANWHILE, Yoenis Cespedes mashed three taters and the Mets had 15 hits in the first six innings on their way to a 14-4 laugher.
Fake News
Harvey prepared for today's start by taking in a matinee of Your Name, the newly released Japanese anime.
"Honestly," Harvey admitted, "I knew it was a teenage meet-cute fantasy going in. But the director's message really resonated with me." Asked to elaborate, Harvey explained, "You know how Tug McGraw said 'Ya Gotta Believe?' Well, 'Believe in the future' isn't just a theme for star-crossed adolescents. I've returned from two major surgeries that each could have ended my career. This Mets team's qualified for two straight postseasons but haven't reached the summit. We're going to get there, and when we do we'll all cry like I did at the end of this movie." If the Dark Knight's endorsement is any indication, Your Name may represent a new, pure expression of Mets dedication.
Punditry
The Mets are 2-0 all time in games in which Yoenis Cespedes hits three dingers. They're probably undefeated in games where they slug seven home runs and 14 extra-base hits. There's also an extremely positive correlation between winning and having three players in the same game finish a triple short of the cycle — seeing as the Mets are now 1-0 in such contests.
The first three Mets hitters set an admirable tone for the offense. Curtis Granderson and Asdrubal Cabrera each saw eight pitches. Granderson walked and Cabrera doubled. One might take issue with Yoenis Cespedes swinging so hard at the first pitch he saw that he fell down, but not when he can do this in the very same at-bat:
Are you not entertained⁉️ #Cespedes pic.twitter.com/22M6pF0HHS

— New York Mets (@Mets) April 12, 2017
Granderson and Cabrera reprised their offense during the second inning in a much more LOLphillies fashion. Granderson popped to center but Odubel Herrera couldn't find the ball in the twilight. It dropped 20 feet away from him for a pristine double. Cabrera lined a single to center, then tagged up and took second when the Phillies forgot to check him on a Cespedes foul-out behind home plate. A Jay Bruce single over the shift scored both runs.
Cabrera and Cespedes went back-to-back in the third. The Mets' offense was so relentless that Cespedes came up for a fourth time in the fifth inning, and he crushed his third round-tripper of the evening. Lucas Duda destroyed a hanging curveball in the sixth.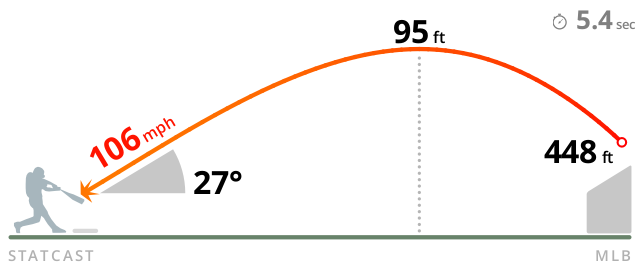 It's as if Clay Buchholz and Adam Morgan are below-average major league pitchers.
The only Mets starter who didn't reach base was Matt Harvey. He did his part on the mound, though: Two runs over 5.2 innings, striking out six and walking one. He exited with left hamstring tightness after covering first base on a 3-1 putout, although it was unlikely he would have been much longer for the game anyway. He was somewhat inefficient, throwing 92 pitches to record 17 outs, and there was no reason to push him with an eight-run lead.
We've seen teams use the 10-day disabled list generously for hamstring injuries — witness Washington's placement of Trea Turner there this week — so Harvey ending up disabled would be unsurprising. That said, the Mets' rotation can't fade an extended Harvey absence. Steven Matz and Seth Lugo are already hurt. Zack Wheeler and Robert Gsellman are understandably unreliable. Bartolo Colon is a Brave. Should Harvey need to miss his next turn, the Mets may be faced with a game started by Rafael Montero. Never say you have enough pitching depth.
Social Media
#TeamTooManyHomeRuns is back

— D.J. Short (@djshort) April 12, 2017
GKR-isms
"We've seen the Phillies not paying attention the last couple days… Great athletes we have today. Instincts? Not so much." — Ron
"You're gonna have to recalibrate those power numbers, Gary. They just keep adding on." — Ron
"Mets leading the world in high-fives tonight." — Ron
Forecast
Zack Wheeler returns to the mound as the Mets go for the sweep in Philly.
Photo Credit: Bill Streicher-USA TODAY Sports