If you're reading this, you're probably aware that Jose Reyes is off to one of the absolute dirt-worst starts in baseball. Entering his benching in Thursday's series opener in Miami, Reyes has opened a horrific 2-for-37, with just one walk and one extra-base hit compared to 11 strikeouts. It's hard to completely give up on a player in a week and a half, but this could be the beginning of the end. It's not like there weren't warning signs, either.
Before we get to Reyes's recent extreme struggles, let's dismiss the idea that the Mets should ever want Jose Reyes leading off, especially against right-handed pitching: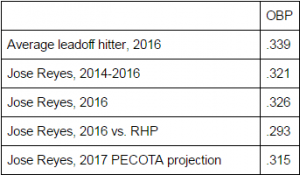 Not great, Bob. Reyes, coming into this season, looked like a perfectly fine fill-in third baseman for the MLB minimum, if you ignored the reasons behind the Mets paying him the league minimum. His full PECOTA forecast was .266/.315/.382 with scratch defense at third, good for 1.9 WARP over 633 plate appearances. Essentially, we projected Reyes to be a slightly below-average player, which is great to have as a fill-in. But delving into things a little closer, there were already signs of concern. Reyes's 2016 "resurgence" wasn't all that much better than he had been doing for the last few years as an overall package, especially given the sharp declines in his speed and defense. It was mostly driven by pop from the right-handed side of the plate, making him a truly terrible leadoff hitter against right-handed pitching. He's always run a notable platoon split—.349 career OBP vs. LHP, .333 career OBP vs. RHP—and, even conceding that the sample sizes weren't huge, he was actually somewhat terrible as a leadoff choice entering the season, even before the brutal start..
Oddly enough, the Mets went through a similar pickle with the very same Jose Reyes on the other side of his career. In the waning days of the Steve Phillips administration, the Mets rushed then-prized prospect Reyes to the majors just two days before his 20th birthday, and within a month he was installed as a bone fide Major League Top Of The Order Hitter. By mid-2004, he was The Leadoff Hitter. Except Reyes was awful at doing leadoff hitter things that didn't involve running fast. For example, despite posting 60 steals and 17 triples in 2005, he only posted a .300 on-base percentage and 80 wRC+, choking off the offense. With age, Reyes eventually improved his hitting ability and selectivity, and while he was never the sabermetric ideal of a leadoff hitter, he was a very good player until a few years ago when his bat started diminishing.
There's a stunningly obvious replacement leadoff hitter against righties, and it's one that the Mets have already tried: Michael Conforto. You'd have to find consistent time for him to play, but that's not actually all that hard with just a touch of creativity. Then again, every time Conforto looks like he's breaking through, Collins fires back with a quote like "the biggest question is, who are we taking out?" while conveniently ignoring that he has nearly a half-dozen players in their thirties on expiring contracts being stretched into roles at or beyond their current skills, with a positionally versatile roster that makes nearly any of them for Conforto a potential straight swap. On the plus side, Conforto's 2017 is setting up to be a hell of a bench season in your Met table-top simulation leagues.
The Cubs have been running this leadoff gambit with Kyle Schwarber, perhaps the player most frequently compared to Conforto over the course of their careers. In theory, Schwarber has "nowhere to play" in an overcrowded outfield, just like Conforto; in reality, you move guys around and stick a veteran on the bench once or twice a week to accommodate young players of this quality. Chicago is hitting Schwarber leadoff to maximize his plate appearances, while still aggressively getting him out of left late in games for defense. Three times already this season,, Schwarber has gotten five plate appearances in a game and then been lifted for a defensive replacement. Joe Maddon is stealing an extra at-bat once every two or three games for Schwarber by hitting him leadoff instead of fifth or sixth, without giving anything up on defense. And by doing so, he's avoiding hitting exciting, lower-OBP players like Addison Russell or Albert Almora at the top of the order. I've mentioned before that Terry could use to be a little more like Joe Maddon, and this is yet another instance in which that is the case. His willingness to try Conforto there once is a start, I suppose.
For now, Reyes batting low in the order and playing third is tenable, but the Mets have a ton of options here. David Wright is back throwing, and while you certainly can't really count on the Captain right now, if he's back ready to play half or three-quarters of the time in a few weeks or a month, that makes the decisions a lot easier. Sitting on the bench are Wilmer Flores and T.J. Rivera, who can both play third well enough and could probably both outhit Reyes moving forward.
Over the longer haul, one of baseball's top prospects in Amed Rosario waits. He's a shortstop by trade, and a darned fine one at that, but Rosario could slide over to third himself for a portion of a season. They could also play himat short and slide Asdrubal Cabrera to third, a position he isn't overly familiar with but one that should suit him well, or move Cabrera to second and Neil Walker to third, positions they've both played and been comfortable with in the past. The Mets won't consider this a current option publicly—they're only two more weeks of Rosario at Triple-A away from gaining another year of service time on him—but if he's still putting up big Vegas numbers with Reyes continuing the "can't hit water if he fell off a boat" routine as April turns to May, expect the clamoring to get pretty loud.
Photo credit: Bill Streicher – USA Today Sports