Mets 9, Marlins 8, 16 innings
I don't know if you remember Xan Brooks' epic Wimbledon liveblog in 2010, when the internet watched a writer lose their mind in real time. I thought it was hilarious, an epic virtuoso performance. I'm not in any way comparing my responsibilities to that, but having waited for this six hour-long game to end, I do think that perhaps I've misunderstood; I've misunderstood what that long, long day cost Brooks seven years ago. Did he emerge with his soul intact? When people's faces light up in recognition at his name, does he nod knowingly, while screaming inside? Come to think of it, who checked in on Xan last?
Travis d'Arnaud had had enough. After catching all 16 innings of this six-hour marathon, having arrived in Miami at 3:30 this morning, the Mets catcher said, "I'm going to end this. I need to ice my knees." And so he launched a go-ahead home run deep into the early morning sky, putting the Mets ahead 9-8 in the top of the 16th. In the bottom of the frame, Hansel Robles (who wasn't even supposed to pitch tonight, in his fourth consecutive game, but there was literally no one left in the bullpen, either to pitch or to talk to) laid a minefield to tapdance through, walking Yelich before inducing a flyout from Stanton, striking out Justin Bour, and getting Marcell Ozuna to fly out to the warning track. Goddamn but Robles earned it tonight.
"You know what would be fun?" I said to myself as I entered into my first season writing recaps. "I should score the games as I watch. Add some authenticity." It's nights like tonight when I remember I am an idiot.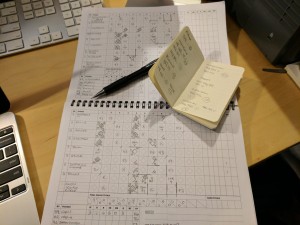 You score games in the stadium to put on airs; you don't set out to score a six-hour game where the two teams score seventeen runs between them. No one actively tries to do that; it's like actively trying to grow a hangnail.
Tonight, sleeping on his bed made out of money and Bud Selig's hair, Rob Manfred will dream about adopting the extra inning rules they toyed with during this year's World Baseball Classic. (With all things ending the same, I like the Mets' chances in the eleventh with Jay Bruce up with Wilmer Flores and Yoenis Cespedes on the bases.) I would also settle for a duel between the opposing managers using 19th century pistols. A dance off. Anything that will deliver us from a game that lasted almost as long as my shift at work. I love this game, I really do, but you can't take drugs all day, you know?
But I won't deny that I love when long games pull players out of position, middle infielders pitch, dogs and cats live together, and we just … we just get crazy. Rene Rivera at first base in the 12th? Why not. Jacob deGrom pinch hitting in the 15th? Oh hell yes. (He struck out.)
Michael Conforto continued to make the case for "liberate [player's name here]" candidacy, tying the game with an RBI pinch hit double in the eighth. Another hero? Jay Bruce, who just keeps hitting — to the opposite field, no less.
The biggest takeaway here is that Cespedes needs to work on sliding. In the seventh, down by one, Cespedes reached on a wild pitch after striking out. He advanced to second on another wild pitch by Kyle Barraclough. In the next sequence of pitches to American Sweetheart Wilmer Flores, twice Miguel Rojas snuck in behind Cespedes and coaxed a throw from the pitcher, slapping a tag on the Mets right fielder's leg a hair too late. Both times, Cespedes came back to second on his feet, and it was a harbinger of the play upon which the game would turn. After Flores struck out, Bruce drove a ball to left, and Cespedes, taking a wide turn at third, never left his feet. Marcell Ozuna's throw, though off line, gave catcher AJ Ellis enough time to lunge back into the baseline and swipe at the runner as he passed. Originally ruled safe by Angel Hernandez, the Marlins challenged, and after watching multiple angles of leather barely caressing Cespedes' backside, the call was overturned by the crew in Chelsea. Yoenis doesn't do his own laundry, so I don't understand his aversion to the Florida mud. Maybe hit the deck next time, big guy, and I have a chance for some sleep tonight.
The tragic ballad of Robert Gsellman is this: as the forgotten soft underbelly of this Rotation for the Ages, the only storylines in which he will feature focus on why, exactly, he is the soft underbelly of this rotation. Gsellman was atrocious in the first, loading the bases with walks on either side of an infield hit.  After goading Justin Bour into popping out to first, Gsellman missed his location badly, allowing Ozuna to crush a grand slam to left. Gsellman found a rhythm in the second, third, and fourth, setting down the Marlins in order; it would be the only time all night that the bases were not clogged with Marlins. Gsellman reverted to the mean in the fifth, giving up three singles and a walk. With the bases loaded, he faced Giancarlo Stanton and floated a pitch over the heart of the plate, costing all Mets fans watching a couple years of their lives. Somehow, Stanton just missed it, hitting a sacrifice fly instead. Gsellman gave way to Josh Edgin, who promptly surrendered an RBI double to Bour, shaking out the last drops of gasoline that Gsellman had left in the can.
But if the back end of the rotation and most of the middle relievers were terrible (not Josh Smoker! Three brilliant innings. Much love), the Mets' bats continued their hot streak — if you conveniently forget the hours between 9 p.m. and 12.15 a.m. After coughing up a four-run lead in the bottom of the first, they came roaring back in the second. Flores led off with a single; Bruce, facing a hard shift to the right, bunted to an empty left side to put two men on with no one out. A single by Neil Walker followed, bringing d'Arnaud to the plate with the bases loaded. The once-fragile, not team-carrying Mets catcher proceeded to clear the bases with a triple. Bruce was brilliant all night, showing opposite field power  when he wasn't merely exploiting defensive shifts for fun and profit.
(When did the eight-run-scoring Marlins start fielding good players again, by the way? The past two years Mets fans have spent so long gazing at downtown DC — especially after the departure of a certain power-hitting, crucifix-kissing second baseman — they seem to have barely noticed the trouble Miami might pose down the stretch.)
When the Mets play the Marlins, three at bats by Giancarlo Stanton is usually part of the attraction. Stanton absolutely feasts on Mets pitching, and, even for Mets fans, watching him work is worth the price of admission — unless you have seats in the left field stands, in which case your life is in danger. So it was a nice bit of turnaround for Cespedes to be the offensive force for once, with monstrous two home runs as he continued his offensive tear. Should his streak continue, he very much will be the story, and should have been the story tonight, had both teams not forgotten that the actual objective is to, you know, win in nine innings.
Photo credit: Jasen Vinlove – USA Today Sports