Mets News
This feels like the darkest timeline. With the hapless Giants in town to face the bumbling Mets, some are asking whether two teams have ever both been swept in a three-game series. Prognosticators are demonstrating that losing Noah Syndergaard hurts the Mets more than any team losing its best pitcher. Asdrubal Cabrera crooked his thumb in a direction it doesn't bend, but he won't need surgery. BUT the Mets won't place him on the "it's literally a 10-day DL" DL. The suspended Matt Harvey, eligible to start on Wednesday, will instead throw a side session because Citi Field is apparently a hostile environment. It might be, since he's contesting his three-game suspension. Until today, every NL player of the week had been somebody who faced the Mets. And to add insult to injury, 27-year-old former Met Ruben Tejada is somehow slashing .319/.410/.580 in 20 triple-A games for … the Yankees.
MEANWHILE, Neil Walker drove in the first and last runs of the game. Mets 4, Giants 3.
Punditry
Jacob deGrom TTO'd four of the five batters he faced in the first, striking out leadoff man Joe Panik and No. 5 batter Christian Arroyo. In between, Brandon Belt walked and Hunter Pence knocked his own helmet off, which is not one of the three true outcomes. Pence's awkwardness notwithstanding, he lined a full-count high fastball over the right-center field fence, inches over the outstretched glove of Juan Lagares.
deGrom decided  the best way to retire the Giants was by strikeout. Remember, a year ago this offense was considered an "unprecedented" contact-hitting team. deGrom struck out 10 through the first five innings, including all three in the third. He also walked three and threw 96 pitches through the fifth. With 11 last night, deGrom finished with 10 or more strikeouts for the third time in his last four starts.
Despite starting four hitters with sub-.200 batting averages, the Mets managed to score four runs. Michael Conforto led off the first with a walk, moved to second on a Jay Bruce single, and scored on a two-out Neil Walker ground-rule double. Bruce would have scored as well had the ball not bounced over the wall.
In the fifth inning, the Mets tied the game on singles by deGrom and Conforto, followed by a T.J. Rivera double. The Mets seemed poised to take the lead with second-and-third with no outs, but Bruce and Wilmer Flores both popped up on the infield, and Walker struck out swinging. Tough to watch your 3-4-5 batters fail to drive in two runners in scoring position. It hurt worse when Buster Posey turned deGrom's first pitch of the sixth inning into a second-deck dinger.
The eighth inning started softly with a Walker flyout. But then Jose Reyes walked, Rene Rivera grounded a single through the 5.5 hole and Juan Lagares walked to load the bases. That brought up the pitcher's spot, and a surprise pinch-hit appearance by Asdrubal Cabrera, thought to be unavailable due to a severely jammed finger. Cabrera took the first two pitches for strikes and couldn't dig out of the hole, slapping a smooth roller to short for a tailor-made 6-4-3 double play end the inning. The obviousness of Cabrera killing the Mets' rally is nothing next to the inevitability of a post-game quote from Terry Collins explaining that the plate appearance proved Cabrera was not ready after all, and *now* Cabrera is going on the 10-day DL (*Editor's note: this didn't happen…yet).
The Mets' bullpen threw three innings of one-hit ball, striking out two and walking none, and kept the game tied 3-3 entering the ninth inning. Conforto led off the bottom of the ninth with a five-pitch walk and Terry sent T.J. Rivera up to bunt. The first two pitches were out of the zone, so Rivera got the green light instead and fouled out to third, failing to advance the runner. That brought up Jay Bruce, who entered the game with a .156/.229/.281 slash line against southpaws. Bruce hit the second pitch 349 feet to right-center, a loud fly that fell short of the warning track.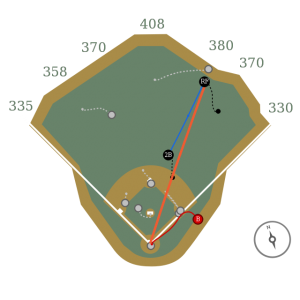 With two outs, Flores grounded one up the middle that ricocheted off Giants reliever Hunter Strickland for an infield single. That gave Walker a chance to bat with the winning run on second and he took advantage. A clutch line drive over first base gave the Mets their first walk-off win of the year.
Social Media
Three dildos spotted at Citi Field in less than a week https://t.co/ZiQB2eYpSF

— Mike Gianella (@MikeGianella) May 9, 2017
GKR-isms
"Gary, Mets fans love to torture themselves." — Keith
"Sorry, wasn't on the headset there; my mother called me." — Ron
"Keith, you and I have about a three-year window before this game is unrecognizable." — Ron, referring mostly to shifting infield defense
Forecast
Zack Wheeler versus Jeff Samardzija later tonight, as the Mets need one victory in their next two games to take their fourth straight series.
Photo credit: Andy Marlin – USA Today Sports