You can say what you want about the Subway Series in 2017 and if it means anything. You can say what you want about how little it actually represents. But if the series this year has represented anything, it has represented two teams going in completely different directions. And the Mets are not the ones going in the right direction. It's like the over-used analogy of two ships passing in the night, except the Yankees' ship knows exactly where it's going and running smoothly, while the Mets' ship is kind of just meandering about in the blank sea and because its captain is lost and incompetent, three employees have quit on the job, and all the toilets are broken for some reason and they don't have the budget to fix them.
If there was ever a perfect encapsulation for the mess the Mets have become, it's this:
I can't stop looking at this. pic.twitter.com/xFJt951qUB

— Anthony DiComo (@AnthonyDiComo) August 17, 2017
The Mets needed to start Travis d'Arnaud, their catcher, at third base today because two infielders got hurt in batting practice. In order to hide him on defense, the Mets switched him and Asdrubal Cabrera back-and-forth between second and third base 22 times over the course of the game. This came just hours after the general manager publicly shamed that night's starting pitcher for openly shrugging off his pep talk, and also admitted that a mid-market payroll is over-budget for a team that plays in New York.
This is almost something out of Meet the Parents. Every single year, the Mets are supposed to button up and get serious for their series against the Yankees, because most years it's their only games that people will actually care about. But every single year, they muck everything up and embarrass themselves even more than they did before.
And now, we have Aaron Judge to really make it sting.
.@TheJudge44 sends this one back to the Bronx. pic.twitter.com/g8U3Pizmzo

— MLB (@MLB) August 17, 2017
Yes, he hit it THERE: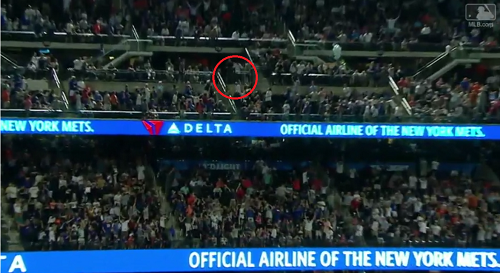 In his first career game there, Aaron Judge defeated Citi Field. He saw a pitcher's park with a bad reputation for hitters, giggled maniacally, and then ate the stadium with a fork and knife. That's just insulting. Poor Robert Gsellman was firmly pantsed. In fact, all the Mets have been firmly pantsed in this Subway Series. How does this happen every year?
As for the game itself, before Judge sent that ball all the way to Narnia, they were tied at 1-1. But that dimension-altering dinger in the fourth inning made it 2-1. The Mets would later counter with a solo shot by Rene Rivera in the fifth innng to tie the game at 2-2, and then the teams traded runs in the sixth inning, so it was tied at 3-3 going to the seventh.
By then, Gsellman's night was over. Despite Judge completely bodying him, Gsellman actually had a fairly decent outing. He went 5.1 innings and allowed just two earned runs with three walks and two punchouts. It's just the sixth time in 15 starts this year that Gsellman has held the opposition to two earned runs or less.
Paul Sewald came in for relief of Gsellman in that sixth inning, and got out of the frame. But he came back out for the seventh, and ran into trouble there. He gave up a leadoff double to Ronald Torreyes, then walked the bases loaded. He would get two outs in the inning, but served up a two-out, two-run double to Didi Gregorious, which gave the Yankees a 5-3 lead.
And with the Yankees bullpen, it was basically a formality from there. The Mets dropped their third straight to the Yankees, and have once again lost the Subway Series; they can now only hope to avoid a sweep. The loss also puts the Mets at 12 games under .500 for the first time since 2013, when they employed Daisuke Matsuzaka on purpose.
TODAY:
Mercifully, it's the final installment of the 2017 Subway Series, as the Mets will try not to get swept behind Steven Matz, while Luis Severino takes the ball for the Yankees. First pitch is scheduled for 7:10 p.m. ET from Citi Field.