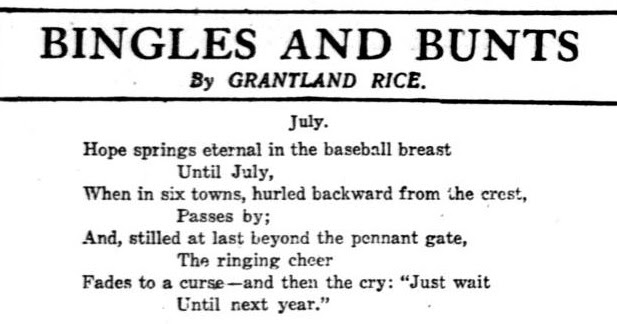 The 2017 Mets weren't eliminated from playoff contention until Sept. 14, two months later than the July losers Grantland Rice covered in 1914. Back then, of course, there was but one playoff spot per league, not the five we have today. The NL-leading Dodgers had a 31-game lead over the Mets entering play last night. By that measure, the Mets might well have seen their playoff odds bottom out months ago.
Anyway, that's five straight losses, this one by the score of 3-2. Rafael Montero allowed his typical nine baserunners in fewer than five innings, while the 4-A squad's offense couldn't plate more than two runs. Some minor-league catcher named David Freitas had Montero's number, scoring and driving in a run for the Braves. Montero's gone from "terrible, shouldn't be in the big leagues" to "innings eater for team playing out the string" in just 10 starts. Good for him?
You wouldn't be blamed if you missed the eighth inning of last night's game while watching the ninth in Cleveland. (Goodness knows the SNY booth's attention was divided.) The Indians' 22-game win streak came to an end, as they couldn't bring a leadoff single home against former Braves southpaw Mike Minor. When Francisco Lindor struck out for the final out, the sellout crowd stood in unison and demanded a curtain call from the entire roster.
If we wait till next year, maybe the Mets will deserve an ovation or two.
Photo Credit: Brett Davis – USA Today Sports