Primer
After Noah Syndergaard was brilliant (don't let two juiced ball homers obscure a fantastic Opening Day start) and Jacob deGrom battled his way into a solid start in Game two, the Mets found themselves with a 2-0 record atop the NL East. Steven Matz took the mound opposite Cardinals 2017 breakout pitcher Luke Weaver, looking to complete a sweep to open the season. Both would have to fight against one of the worst umpires in the game with C.B. Bucknor behind the plate.
Brandon Nimmo was scratched hours before the game with "flu like symptoms" (celebrating Easter a bit too hard, Brandon?), giving Juan Lagares another start a day after going 2-for-5 on Saturday. Wilmer Flores got his first start of the year at first base with Adrian Gonzalez taking a seat.
Game Recap
Matz started his year well with a strikeout of Dexter Fowler, but ran into some trouble as his command wavered throughout the first inning. He got squeezed a bit, but threw plenty of balls well out of the strike zone as he walked Tommy Pham and Matt Carpenter to put runners on first and second with one out. Matz bounced back with a strikeout of Marcell Ozuna (on a checked swing that wasn't) and a hard line out from Jose Martinez, but it took him 25 pitches to get through the top of the first.
In the second, Matz was a bit more efficient, but he surrendered a solo home run to Paul DeJong that gave the Cardinals a 1-0 lead. The Mets got the run right back, however, as Kevin Plawecki walked to lead off the second, moved to second a on sacrifice bunt from Matz. Amed Rosario promptly drove him in with an opposite field single to tie the game, before he was picked off first to end the inning.
That tie wouldn't last. Matz gave up another run in the third on a bad curveball to Marcell Ozuna in the third, then surrendered a solo home run to Mets nemesis Yadier Molina that stretched the lead to 3-1 leading off the fourth. The Mets' offense, meanwhile, was mostly quiet, as Weaver held them scoreless with some help from some very questionable strike calls from Bucknor.
Paul Sewald replaced Steven Matz in the top of the fifth and also immediately ran into problems with Bucknor. After inducing a ground out from Dexter Fowler, Sewald surrendered a single to Tommy Pham after an at=bat with at least two and probably three strikes called as balls: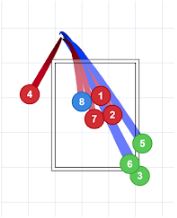 Matt Carpenter followed that up with a walk and Marcell Ozuna drove in Pham with a ground ball single (an impressive bit of hitting on a ball well out of the zone) through the left side that pushed the Cardinal lead to 4-1. The sixth inning was also bumpy, as the Cardinals loaded the bases with one out, but Yadier Molina ground into a double play to end the threat.
Jacob Rhame made his season debut in relief of Sewald in the top of the seventh. Ozuna managed a broken bat bloop single, but Rhame kept the Cardinals in check otherwise. Rhame wasn't as fortunate in the eighth, as DeJong lined a middle-middle fastball just over the railing in left field for his second solo shot of the game.
Rhame would walk Jedd Gyorko and strikeout Yairo Munoz before departing. Jerry Blevins entered and managed only one strike in his first ten pitches, loading the bases with two walks before escaping the threat by inducing a fly out from Matt Carpenter. AJ Ramos relieved him and worked a scoreless ninth despite displaying his usual lack of command.
On the offensive side, the Mets did a whole lot of nothing. Every hard hit ball flew right to a Cardinal, and every borderline pitch seemed to be called a strike. Matt Bowman (former Met), Jordan Hicks, and Dominic Leone combined to shut the Mets down for the final four innings, handing the Mets a 5-1 defeat for their first loss of the season.
This was a rough game to watch (possibly because of the post-Easter meal drowsiness), filled with a listless Met offense and high pitch counts. Hopefully the Mets' Sunday malaise from last season hasn't spilled over into 2018, but the early returns are not promising. The Mets will face the Phillies next with Matt Harvey on the mound on Monday.
Thoughts from the Game
Matz did not look comfortable at any point today. There were certainly some calls that didn't go his way, but he often struggled to finish pitches, and his stuff looked flat more often than not. Dave Eiland spoke this spring about how Matz sometimes tries to watch his pitches rather than just letting them go, and perhaps he needs to remember that advice going forward. Whatever the case, the version of Matz we saw today isn't really a viable starter, and it's a shame to see how much injuries seem to have sapped his stuff over the past two seasons.
On some of those calls, C.B. Bucknor truly proved why everyone dreads his name on the scoreboard. It would be one thing if he had a bad strike zone that he called consistently, but it felt like anything close was essentially coinflip. That maddening inconsistency is frustrating for fans to watch and frustrating for players to deal with, and I think it's something that slows down the game more than just about anything the commissioner's office has complained about in recent years. Perhaps if we could dismiss the umpires that are reviled league wide, game times would drop a bit.
Other Mets News
Michael Conforto is heading to New York to be re-evaluated, and will quite possible be cleared for a return very shorty. It's possible that Conforto won't require a minor league rehab assignment, meaning he could be back with the Mets as soon as the end of the week. The Mets are off to a decent start, but getting one of the best young players in the game back in the lineup will be an immediate boon, even if it limits plate appearances for Brandon Nimmo and Juan Lagares.
The only concern of course is that the Mets might be rushing Conforto back. Yes, he had a solid spring, hitting several home runs in minor league and intrasquad games, but he was originally slated to return in early May. A shoulder injury is nothing to trifle with, so hopefully he's actually healthy and not the latest victim of the Mets Zoidberg-level injury practices.
Speaking of injuries, we're still waiting on an official announcement regarding Anthony Swarzak. Why the Mets won't simply use the 10-day DL like every other team in baseball remains a mystery. Instead, the Mets played shorthanded on Sunday, and we'll see how much longer management will force Mickey Callaway to manage with one hand tied behind his back.
Photo credit: Wendell Cruz – USA Today Sports