WHO WON:
Not-the-Mets, x6
WHAT HAPPENED, THE REAL GAME:
The Mets have not lost six games in a row. Sure, it might seem like the Mets have lost six games in a row. It might feel like they haven't held an opponent under five runs since June 18. It might appear that the Mets have won just four games in June with five left to play. You might think that the Mets are a poorly constructed roster as woefully doomed to the same shortcomings as the year prior. All this is reasonable to assume, that is, until you work past the smoke and mirrors to learn that the Mets master plan is quite genius. Let me explain.
This misunderstanding is a simple one, really. It stems from the lack of knowledge of a rule so obscure they listed it in Major League Baseball's Collective Bargaining Agreement, as opposed to the Official 2018 Rulebook. I would advise you to take a quick look at Article XV(I) of the Major League Baseball Collective Bargaining Agreement, but you don't have to. I have it right here:
"Under conditions of extreme duress, and beginning in 2018, the National League team from the New York area will be allowed to play their games pursuant to the official rules for USA Slow Pitch Softball regarding home runs."
For those who might not be aware, that rule states that only three home runs are allowed, per team. So those seven dingers the Los Angeles Dodgers kindly bestowed upon the Mets yesterday? Null and void. Suddenly things start to make sense, aye? After adjusting the boxscore and crunching the numbers, things start to make a bit more sense. Sorry Jerry Blevins, I guess your two back-to-back dingers to start the game will stick: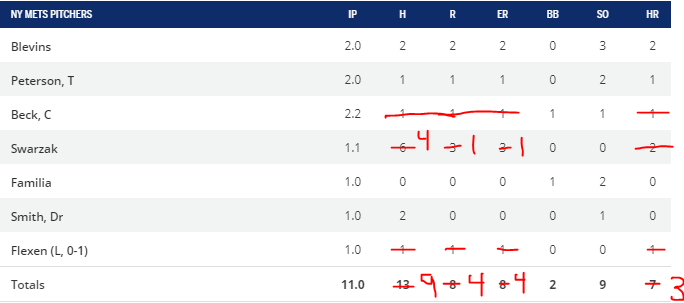 Now you're probably wondering why this hasn't been reported or mentioned or discussed at all. Well, think of it this way. If the Mets state rarely known advantage publicly, teams will just start beating them the old-fashioned way. No, they are smart to play this one close to the chest. So close to the chest that only one or two people know about this rule. So close to the chest that those two people share the same last name and ownership of the team.
That is the only possible explanation as to why this roster appears to be dreadfully doomed by poor creation, management and general foresight into significant shortcomings. Surely nobody in a position of power or management would willfully continue down this path unless they had an ace up their sleeve. Surely ownership's yearly inability to make new, meaningful additions to the roster because, regardless of the outcome, they will be making money aren't running this team into the ground.
Nah, who are we kidding. It is much more likely that the Mets have a special rule written in for them, right? And since that is the case, the Mets won 7-4 on Sunday.
WHAT HAPPENED, YESTERDAY:
The Mets gave up five home runs to the Los Angeles Dodgers, falling to 31-39 on the seas — oh, sorry, that was from June 20 of last season. The Mets gave up seven home runs to the Los Angeles Dodgers across 11 innings. It probably hurts to have your bullpen game go into extra innings, but at least we got to experience the heroics of Kevin Plawecki. Even though everything turned out for naught on Sunday, Plawecki's good day at the plate raised his slash-line to .239/.365/.394 in 85 plate appearances. It isn't much, but it is respectable. Though the sample size is small, Plawecki has managed to build off a good ability to reach base that he flashed last season. One can only hope that he keeps it up and manages to add a little bit of power.
WHAT HAPPENS, TODAY:
The Mets face off against the Pittsburgh Pirates, who have lost five straight games after getting swept by the Arizona Diamondbacks. Jamison Taillon will square off against Seth Lugo, as one team will leave with the ability to say that they have not won in a week. The Mets also enter play just 1.5 games ahead of the Miami Marlins for the worst record in the National League.
Photo credit: Anthony Gruppuso – USA Today Sports