Primer
Some of us are still watching these games, for whatever reason. Maybe we enjoy being frustrated on some level. Maybe we're just too damn hot from the heat wave. Regardless of the reason, we didn't even get the usual enjoyment of GKR, with Gary Apple and Ron taking over the broadcasting while the real Gary, Keith and Steve Gelbs all take a vacation.
With our commentary on the zeitgeist of being a Met fan out of the way, the pitching matchup; Marco Estrada for the Blue Jays and Zack Wheeler for the Mets. Both have heard their names come up in trade rumors, and it's not impossible that any start for Wheeler might be his last in a Mets uniform. That offered a nice secondary plot point for Game 1 of the Jose Bautista revenge series.
Game recap
In an unfortunate turn, Estrada faced only three Mets before departing with an injury. He struck out Brandon Nimmo, then walked Bautista and allowed a home run to Asdrubal Cabrera, all while showing a significant velocity drop and a total lack of control. Jake Petricka replaced him and gave up another two-run home run in the second, this time to Devin Mesoraco. The Mets had a very quick 4-0 lead.
Wilmer Flores added another run with a solo shot in the fourth, extending his hitting streak to 10 games, but Wheeler was the real highlight at this point. Wheeler was perfect through three, before allowing a walk to old friend Curtis Granderson leading off the fourth. Teoscar Hernandez followed with a single but was thrown out at second, and Wheeler worked through the traffic on the basepaths to hold the Blue Jays off the board. Wheeler looked great, consistently living in the upper-90s and snapping off sharp breaking balls seemingly at ease.
Wheeler finally faltered in the eighth, when Granderson struck again with an RBI double after a walk and a hit by pitch. He bounced back with an eight pitch sixth, and the Mets picked him up with another run in the top of the seventh, when Michael Conforto drove in Nimmo (who had walked) with a double to stretch the Met lead to 6-1.
Mesoraco had to depart after being hit on a follow through, and maybe that's where everything went wrong. More likely, it's simply because the Mets bullpen is terrible. Wheeler struck out the first man he faced in the seventh before allowing a single to Randal Grichuk that Bautista botched into a triple. That was the end of Wheeler's night, who was replaced by Anthony Swarzak. And here we go.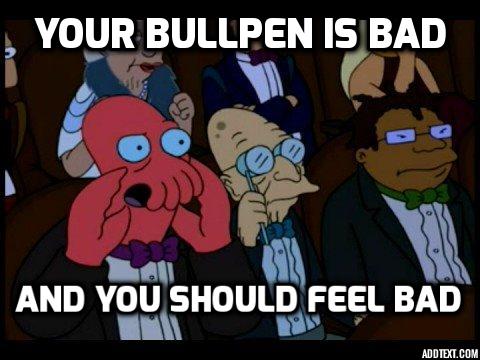 Swarzak got the first out, a ground ball from Lourdes Gurriel that scored Grichuk from third. He then walked Devon Travis, allowed a double to Granderson, threw a wild pitch that scored Travis, walked Teoscar Hernandez and got pulled from the game. Robert Gsellman replaced him and left a changeup too far out over the middle of the plate that Yangervis Solarte deposited in right field for a game-tying home run.
Tim Peterson allowed another two-run home run in the eighth, and the Mets couldn't get anything done after putting two men on in the ninth. Bautista got on base four times and Wheeler was great, but the bullpen implosion blew a 5-0 lead and robbed Wheeler of a well-deserved win. He now has no wins since April 29, and the Mets are now 33-49 on the season.
Thoughts from the Game
It doesn't need to be said, but GKR – particularly the first two – are a blessing from the baseball gods. Mets teams over the past decade-and-a-half have been mostly terrible but watching with excellent broadcasters makes things at least somewhat enjoyable. Put Gary Apple in the booth instead and we go from figuratively no reason to watch to literally no reason to watch.
As for the team itself, there are no new thoughts. The front office neglected to build a real bullpen and it's consistently blown up in their face this season. Turns out when you sign a pop-up reliever who has one year of being good and 10 years of being terrible on his resume, you're not going to improve your pitching staff very much. Shocking, that.
Other Mets News
Not much else to report here. Tim Tebow got hit in the head by a fly ball that turned into a triple in the Eastern League All-Star Game, which was sort of fun. Other than that, same old, same old.
Photo credit: Nick Turchiaro – USA Today Sports