The All-Star break seems like a good time to get the gang (Jeffrey Paternostro, Jarrett Seidler, Alex Rosen and Tyler Oringer) together and take stock of the current Mets system. This is not a midseason prospect list, because Jeffrey won't allow it, but there are tiers for you at least.
Tier 1: Decent shot at being above-average regulars
Andres Gimenez, SS, St. Lucie Mets (A+)
Peter Alonso, 1B, Las Vegas 51s (Triple-A)
JP: So I guess this is as good a place to start as any: Is there any question about who the number one prospect in the system is?
JS: I mean, there's always a question, it's whether there's any plausible answer other than Gimenez. I suppose someone will tell you Alonso or Kelenic. They're wrong, of course.
AR: A high probability up the middle defender or a first baseman only whose entire value is reliant on his bat? I don't think this is a hard decision, personally.
JP: So Gimenez shed some baby fat and is showing a bit more pop and a bit better odds at sticking at shortstop. And even Jarrett isn't in here lobbying for Alonso; that tells you all ya need to know. That said, it's arguably within the fudge factor, because Alonso is close to the majors and might really hit.
JS: Sure. Gimenez has a chance to be an above-average offensive player in the middle infield. And there's still big risk with the right/right college first baseman.
TO: I do think it's closer between the two, but yeah – Gimenez has the all-around thing going whereas Alonso obviously does not.
Tier 2: Low upside arms and high risk bats
David Peterson, LHP, St. Lucie Mets (A+)
Justin Dunn, RHP, Binghamton Rumble Ponies (Double-A)
Mark Vientos, 3B, Kingsport Mets (R)
Jarred Kelenic, OF, Kingsport Mets (R)
JS: [redacted]
JP: Kelenic heads up this tier for me, although two months of short-season ball move him up if he keeps mashing. A 19-year-old smashing the rookie-ball leagues isn't going to tell you much, other than he's at a lower level than he should be because the Metsssssss.
TO: Dunn's up-and-down career thus far has made it quite difficult to confidently project him, but that being said, the good has really impressed. Probably could see him being an inch higher but then again, he has been weirdly bad sometimes.
JP: If I am honest based on my look at Dunn, this is a tier too high — 90-95 with a solid-average slider just isn't special in Double-A — but he's a former first round pick that has shown better stuff in the past. You'd have hoped the command and change would be better by now though,
AR: While fellow second rounder Drew Waters tears up A-ball, Mark Vientos is spending his second season in pro ball back in Kingsport. David Peterson was an advanced left-handed arm expected to move quickly, yet he just received a promotion to Port St. Lucie in his second professional season. Justin Dunn just made his fourth start for Binghamton in his third season. See a trend here? If you're expecting Kelenic, a 19-year-old prep bat, to move quickly in this system, you're inevitably going to be severely disappointed.
JS: Vientos shouldn't be in Kingsport. Kelenic shouldn't be in a complex league. Peterson shouldn't be in A-ball. The Meeeeeeeeets. Seriously, everyone is a level low every year.
JP: David Peterson just got to Advanced-A so…
JS: He should've been in HIGH-A already and advanced out of it to Double-A!
JP: We can ignore — for now — that he hasn't dominated either level as much as you'd expect given his profile coming out of the draft, and that the reports on the stuff haven't been too heartening either.
Tier 3: Fuck if we know
Jeff McNeil, IF, Las Vegas 51s (Triple-A)
Thomas Szapucki, LHP, DNP (TJ)
TO: No idea why McNeil isn't up yet – I guess that Ty Kelly clubhouse thing is really true. Can possibly succeed as a utility infielder and probably would have a chance to prove himself as a somewhat valuable commodity elsewhere.
JP: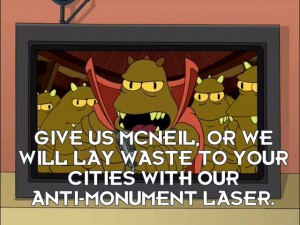 AR: McNeil's been incredibly impressive this year, but he's 26 and has just 345 at-bats above A-ball. The defense is probablyyyyyy good enough to stay at second, but he's not the slam dunk Mets fans expect him to be. The added muscle and new stomp and pull approach seem to have unlocked the potential for McNeil to become a major league bench piece at the minimum.
JS: The changes are real, though. He's 40 pounds of muscle bigger than in his last full season. Sometimes guys just do get better. I know the Mets never believe it.
JP: I've seen a lot of Jeff McNeil over the years, and shit has changed. He's a stomp-and-lift guy now, and the pull-side power is real. He's maintained most of his athleticism with the added weight and I suspect he could still handle shortstop in a pinch, which gives him seven spots to stand. Maybe he's Phil Evans, maybe he's hitting 20 home runs for the Cardinals next year.
JP: This is probably the spot where we tell the "watching Thomas Szapucki at Brooklyn with Jarrett and Greg Karam story."
When Szapucki was warming up, I was not impressed with his low-three-quarters arm slot and overall mechanics, and reset my mental expectations. Then came the first pitch of the game: still coming out of a three-quarters slot, but much smoother and with little effort. It also registered 94 on Jeffrey's gun. The next two after that were 95, the one after that was 96, and 97 followed shortly after. I turned to Jeffrey and Greg Karam of Amazin' Avenue and said "yep, I get it now."
Check back in a year from now.
Short-season dudes that should probably be top ten but it's July
Ronny Mauricio, SS, GCL Mets 
Shervyen Newton, SS, Kingsport Mets (R)
JP: I'm leaving almost directly from our SaberSeminar presentation to go see Kingsport. Newton may or may not still be there at that point, but I already got a scout quote that amounted to "Stuff him, he's at least an average regular." So when he shows up in the top ten this offseason, don't be shocked. I will have to finally commit to memory that it is "v before y."
Mauricio is incredibly raw and likely not a shortstop long term — though frankly neither is Newtown — but there's impact major league tools here.
AR: Let's forget the 2018 stats for a second: the fact that Mauricio's even stateside at this point is incredibly impressive. He's playing the entire season as a 17-year-old in affiliated ball while adjusting to a new culture. Yeah, he probably should be higher, but there's a ton of proximity risk here that needs to be baked into the profile somewhere.
Newton's two years older with a frame that's a little more filled out than Mauricio and is off to a torrid start in Kingsport. Why not run him out at short every day in Brooklyn? He should start 2019 in Columbia, which is likely to be the must-see affiliate next season. It's hard to push Mauricio and Newton ahead of guys who've performed at higher levels of the minors, but Jeff McNeil shouldn't be eligible for this list anymore and I'd trade Dunn straight up for either of these dudes if we're being honest.
Fuck if we know part two
Jordan Humphreys, RHP, DNP (TJ)
Anthony Kay, LHP, St. Lucie Mets (A+)
JP: Man, the Mets sure seem to have a lot of Tommy John guys. Humphreys is another "check back in a year," although the stuff hasn't flashed as good as Szapucki's. Kay was a polished, fast-moving lefty who like Peterson also hasn't dominated A-ball and is already 23. This will be the first time I mention that this is still a pretty bad system.
AR: Kay's velocity is back to pre-Tommy John levels, but the secondary offerings aren't quite there yet. The upside here is the offspeed develops enough to let him start and he settles in as a No. 4 or 5. The downside here is a middle reliever/LOOGY, which is still a major league contributor. All things considered, that's not a terrible outcome for a guy who missed a ton of developmental time. Still, that's not a Top-10 prospect in the system, either.
Potential late-inning relievers who may or may not be in the majors when we publish this
Eric Hanhold, RHP. Las Vegas 51s (Triple-A) 
Tyler Bashlor, RHP, New York Mets
Drew Smith, RHP, Las Vegas 51s (Triple-A)
Gerson Bautista, RHP, Las Vegas 51s (Triple-A)
Ryder Ryan, RHP, Binghamton Rumble Ponies (Double-A)
Ryley Gilliam, RHP, Brooklyn Cyclones (SS-A)
AR: Hanhold's a personal favorite of mine, a converted starter who saw a velocity spike in the pen and the sole return in last summer's Neil Walker trade. It's an easy mid-90s fastball that'll touch triple digits with a plus slider. Bashlor's a high-leverage reliever, but that's what we're getting for a dude that got $450K overslot and never made a single start in his minor league career? Bautista was rushed. It's 100 mph but it doesn't move and his secondary offerings aren't anything to write home about.
TO: Like Smith. In his very preliminary start as a Met, his velocity was a bit down. And while his minors success won't completely carry over, his delivery and arm action (I think) will see him be one of more impressive young bullpen arms for the Mets (if that means anything). Hovers around 95 and could reach 98 with a nice complimentary slider. Was 93-94 first game.
JS: It's real great that the Mets' entire return from a deadline of trading like half of the best rentals is four dudes in this group. Good work, good job, let's go. Also Ryley Gilliam should be in this area so I'm demanding he be in it, even though they're gonna pitch him in short-season and he won't be a MLB candidate until 2021 or whatever.
AR: Draft gurus showered the Mets with praise for taking high-probability relievers on Day Two, based on the fact that, you know, they'd move fast. Well…. The Metssssssssss
JP: Oh, this is the reliever section? Pass.
TO: Ever since watching Raisel Iglesias turn from a starter to a reliever, shockingly, I enjoy evaluating relievers.
Yes they are still eligible
Corey Oswalt, RHP, New York Mets
Tomas Nido, C, Binghamton Rumble Ponies (Double-A)
Gavin Cecchini, IF, Las Vegas 51s (Triple-A)
JP: …uh….again….pass
JS: Some group of stooges put Nido ahead of Peter Alonso last offseason despite the wild protestations of Moe.
JP: Woo-woo-woo-woo-woo, why I oughta…sigh, catchers are weird, man.
/takes a pie to the face
AR: Nido's actually rebounded nicely at Binghamton, but he's 24 and repeating the level. You'd like to see some more pop if a dude's only going to walk three times in 135 at-bats. He likely never hits enough to earn consistent playing time, but his glove should keep him around for a while.
Tier 4: Very Low Minors watch list
Stanley Consuegra, OF, GCL Mets 
Junior Santos, RHP, DSL Mets
Adrian Hernandez, OF, DSL Mets
Simeon Woods-Richardson, RHP, GCL Mets
Luis Santana, 2B, Kingsport Mets (R)
AR: Woods-Richardson popped late this spring, so despite the fact that even he didn't expect to be picked on Day One, this wasn't as big a reach as you might've been led to believe. His mechanics need some work (especially his delivery and landing) and his velocity is inconsistent, but there's enough here to think he'll develop into a decent enough trade chip in time for the Mets to deal him away before he wins a Cy Young somewhere.
JP: I am really thrilled to be writing about dudes born after The Moon and Antarctica came out. Consuegra is a plus-plus runner with a plus-plus arm that makes loud contact. Santos is literally too young to come stateside, has been up to 95 and is a large, projectable human. Luis Santana will inevitably scratch my Luis Carpio itch when I see him in short-season and hopefully won't torch his shoulder like so many other Mets prospects that use the company store strength and conditioning program. Adrian Hernandez got one million dollars last year.
TO: SWR still concerns me. Alex has done a good job convincing me he may be okay, but really weird off of the mound.
2018 college guys with potential
Carlos Cortes, 2B, Brooklyn Cyclones (SS-A)
Bryce Montes De Oca, RHP, Brooklyn Cyclones (SS-A)
Ross Adolph, OF, Brooklyn Cyclones (SS-A)
JS: Find you someone that looks at you the way Mets scouts look at Carlos Cortes.
AR: You don't pass up the opportunity to go $300K over-slot on a 5'8″ left fielder who hit .265 in the SEC.
JP: His price was reportedly one million out of high school too. So get that paper young man.
AR: I suppose there's a decent track record with wood here as he performed well on the Cape last summer, but he's a below average runner who's going to really need to hit.
I like de Oca, as do many others, but you have to believe there's a reason he was available in the ninth round. There's a chance for two 7 offerings here, but the injury history is lengthy, not to mention quite serious, and de Oca has major control issues.
JP: We regret to inform you that de Oca is already hurt again.
AR: Oh there's a door? I'll show myself out…
Personal Cheeseballs
Harol Gonzalez
Nabil Crismatt
Steve Villines
Tim Tebow
JP: Harol Gonzalez is a true (minor league) Met with a 3.16 ERA and one win so far in 2018. As long as I've got a job he's got a job (on the Mets prospect list)
AR: Crismatt's probably a fifth starter, but the Mets keeping him down in Binghamton so long with that team is definitely on brand.
JP: Villines is the one sidearming college senior sign I have ever liked. He has video game peripherals but there's a chance he's just too hittable further up the ladder. A more consistent breaking ball would help.
JS: Tebow's gonna get more playing time in The Show than half this list or more, isn't he?
JP: You're so fired.
Staff Pref Lists
Alex Rosen
Andres Gimenez, SS
Peter Alonso, 1B
Jarred Kelenic, OF
Mark Vientos, 3B
David Peterson, LHP
Thomas Szapucki, LHP
Jeff McNeil, 2B
Justin Dunn, RHP
Shervyen Newton, SS
Ronny Mauricio, SS
Jarrett Seidler
Andres Gimenez, SS
Peter Alonso, "1B"
Jarred Kelenic, OF
Mark Vientos, 3B
David Peterson, LHP
Jeff McNeil, 2B/other
Thomas Szapucki, LHP
Justin Dunn, RHP
Ronny Mauricio, SS or somewhere else
Jeffrey Paternostro
Andres Gimenez, SS
Peter Alonso, 1B
Jarred Kelenic, OF
Mark Vientos, 3B
David Peterson, LHP
Justin Dunn, RHP
Ronny Mauricio, SS
Shervyen Newton, SS
Thomas Szapucki, LHP
Jeff McNeil, only a 2B apparently
Tyler Oringer
Andres Gimenez, SS
Peter Alonso, 1B/DH
Jarred Kelenic, OF
David Peterson, LHP
Justin Dunn, RHP
Mark Vientos, 3B
Jeff McNeil, 2B/IF?
Thomas Szapucki, LHP
Ronny Mauricio, SS
Shervyen Newton, SS
Photo credit: Geoff Burke – USA Today Sports