Raise your hand if you're old enough to remember watching SportsCenter at 11:00 p.m. because that's when — and only when — you'd be able to see the day's baseball highlights. Take a bow if you're old enough to remember tuning in early to the Sunday Mets game to watch This Week in Baseball showcase out-of-market highlights, even though the program was hosted by Ozzie Smith. Here in $current_year we can reach for the MLB At-Bat app and watch highlights during ongoing games. Present-day you just blew the mind of 1995 you. Allow us at BP – Mets to spoil you some more by curating our favorite Mets highlights in one easy-to-find post. — Scott D. Simon (@scottdsimon)
April 1, 1996 — Rey Ordoñez's Relay
The throw wasn't mythic, but the events that followed were. At least, they were in my young mind. The best part of the highlight, obviously, is the throw. As a shortstop out in left field taking a limp relay throw, the play would have been a highlight if he were on two feet, if only for the display of accuracy and strength to the plate. Except he threw from his knees, and the throw was still accurate and strong. The other great part of the highlight is Royce Clayton's reaction to getting thrown out. He looks like he got shot.
That play lodged the notion that Ordoñez was a great, great baseball player in my head. He wasn't. But what more can one want in a timeless highlight than the mere mention of a person to evoke an idea in time?
— Eric Garcia-McKinley (@garcia_mckinley)
October 9, 1999 — Todd Pratt Sends the Mets to the NLCS
Many of the best highlights in baseball history come out of completely nowhere. No one predicted Bill Mazeroski would be the first hitter to win a World Series with a homer or Daniel Murphy suddenly becoming Babe Ruth in last year's playoffs.
Sixteen years before Murphy, an even more anonymous player stole the show. Todd Pratt was not even supposed to be in the lineup in Game 4 of the 1999 NLDS against the Diamondbacks. Hell, he was fortunate to even be in a uniform; three years prior, the backup catcher was out of baseball entirely. The Mariners cut him in spring training and he spent most of the next year coaching at Bucky Dent's baseball school in Florida while also managing a Domino's franchise.
By necessity, the Mets reached out to him for catching depth, and he worked his way up from Triple-A Norfolk to become new star Mike Piazza's regular backup. In 1999, the Mets were back in the playoffs for the first time in 11 years but suddenly without their franchise catcher, as an allergic reaction to a cortisone shot forced Piazza to the bench in the middle of the NLDS. They overcame the big loss to win Game 3 and had Arizona on the brink of defeat in extra innings of Game 4. Up stepped Pratt, who had just 16 homers during his seven-year career.
Pratt crushed the pitch from Matt Mantei deep into center field. Steve Finley ran back to the warning track and jumped for the ball. It seemed like he might have a play: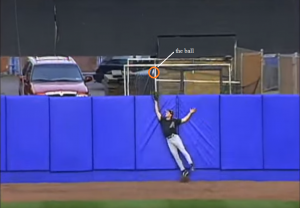 Finley juuuuuuust missed it, as the ball went narrowly by his glove and over the wall for a walk-off home run. Pratt was the first National Leaguer in 39 years (since Mazeroski himself) to win a playoff series with a homer, and the victory came from just as unlikely a source. Baseball is beautiful.
— Andrew Mearns (@MearnsPSA)
October 17, 1999 — Robin Ventura's Grand Slam Single
This was the last truly enjoyable moment of a surprising and satisfying 1999 playoff run. Of course, it all ended with a gut-punch conclusion to an NLCS Game 6 that still gives some fans night terrors. But before the darkness, there was light: Ventura's chill-inducing, game-winning grand slam in the bottom of the 15th inning of Game 5 at Shea Stadium. Todd Pratt had won the NLDS with his dramatic dinger, but Ventura's late-night tater was so stirring that he didn't even get to round the bases and earn credit for all four runs. Good thing the Mets only needed a single run to record the win, so I'm sure Ventura was A-OK with logging a mere RBI single — the longest and most dramatic RBI single in New York Mets history.
— Erik Malinowski (@erikmal)
September 21, 2011 — Mike Piazza's Post-9/11 Home Run
The greatest hitter in Mets History. Ten days after the worst day in New York history.
There were two ways to go with greatest highlight: one, pick the best baseball moment — like a World Series title, or the Endy catch, or the Rey Ordonez throw; or two, pick something bigger than the game. Obviously, the Piazza homer falls into the latter category.
Baseball cannot solve terrorism, or provide a road map to balance security and civil liberties, or bring back 9/11's victims or rebuild the countless lives damaged in the attack and the subsequent, endless war. But it does provide home runs, and special moments.
— Toby Hyde (@tobyhyde)
May 21, 2005 — Dae-Seung Koo Doubles and Scores off Randy Johnson 
There have been over 1,000 New York Mets players in history, but my favorite Mets moment comes courtesy of a Korean pitcher named Dae-Seung Koo. Some will remember him as a left-handed reliever who lasted one season in the majors. I will remember him for one of my favorite Met moments. In his first major league at-bat, Koo stationed himself far away from the plate and took every pitch, striking out. But Willie Randolph decided to give Koo a second at-bat with the Mets leading against Randy Johnson and the Yankees on May 21st.
With Koo once again stationed far away from the plate, he took the first two pitches. But on the third pitch, Koo swung hard — crushing the ball over Bernie Williams's head in center field for a double. The crowd and the announcers went crazy. Never has a double to lead off the bottom of the 7th brought Mets fans so much energy and excitement.  Koo was not done. Jose Reyes bunted in an attempt to sacrifice Koo to third. Jorge Posada fielded the bunt in front of home plate and threw to first to retire Reyes. But Koo — seeing Posada several feet away from his position — dashed home and dove head-first to beat the first baseman's return throw. But while this may forever last in my memory, this play most likely stunted the Major League career of Dae-Seung Koo: the dive home injured his shoulder, he pitched poorly the rest of the year, and was subsequently sold back to Korea.
— Seth Rubin (@sethrubin)
June 1, 2012 — Mike Baxter's Catch to Preserve Johan Santana's No-Hitter
That Friday night, my wife and I had an 8:30 dinner reservation at a restaurant 15 minutes from my house: We'd been married on a June 1st nine years prior. Why not watch the start of the Mets game until it was time to leave? We sat side-by-side on the sofa, as we always have. The Mets plated two in the bottom of the fourth (Nieuwenhuis single, Wright double, Duda sac fly, Murphy triple) but the big news was on the other side of the line score.
There was no controversy in our decision to not leave for dinner until the Cardinals got their inevitable first hit of the game off Johan Santana. I called the restaurant to cancel after the top of the fifth. When a three-run Duda dinger put the Mets up 5-0 after six, the Mets had a 98% win probability but the game's outcome remained in considerable doubt.
The seventh inning first brought up the prior year's World Series hero, David Freese. Santana got him to pop out to first. Next came noted Mets Villain Yadier Molina. Johan fell behind, 3-1. On the fifth pitch of the at-bat, Molina uncorked one to the deepest part of left field. Mike Baxter took a great circle route backward that Statcast would find less than efficient. But as Baxter reached the warning track, he stretched out, caught the ball, and proceeded to ram his unprotected shoulder into the hard outfield wall.
As Baxter walked off the field with the trainer holding his damaged shoulder, the Citi Field crowd gave him a standing ovation. Baxter had been hitting .323/.392/.523 in 2012 before the injury. When he returned from the DL on July 30, he hit just .228 the rest of the way, and then just .198 in parts of the next three seasons.
Baxter is currently hitting .249/.341/.423 for Seattle's Triple-A team. He sacrificed himself for Johan's greater glory. Pretty good anniversary, too.
— Scott D. Simon (@scottdsimon)
July 14, 2015 — Jacob deGrom's Dominant All-Star Game Performance
The word "highlight" often connotes one event, a flash-in-the-pan occurrence that exists as a singular exemplar of excellence. But pitching has the ability to stretch highlights so that they encompass a series of events, to show that repetition can be brilliant in its own right. When Jacob deGrom began the sixth inning of the 2015 All-Star Game, 74 pitchers had compiled an immaculate inning. None had ever done so in an All-Star Game, against a three-man stretch of some of the best hitters the game has to offer. In deGrom's 2015 All-Star performance, he fired eight straight fastballs — the velocity of which increased from 96 to 98 mph between the first and eighth pitch — seven for strikes, and finished with two nasty cutters low for swinging strikes. Though he missed immaculate status by one errant fastball, and though this highlight came in a Mets jersey but not in a Mets game, it's imperfect; but dominance like that is its own form of perfection.
— Brian Duricy (@briansusername_)
July 31, 2015 — Wilmer Flores's Post-Non-Trade Walk-Off Home Run
This is the one Mets highlight that I can think of, at least that I have seen, in which the joy I get from watching it comes from feeling so great for the player. When Flores hit that walk off homer, a night after crying because he believed he'd been traded, it was just too perfect an ending to imagine. The non-trade has really paid dividends for the Mets — Carlos Gomez  has struggled and Yoenis Cespedes has raked — but the original mishandling of its reporting led to the emotion we saw from Flores, a type of emotion we usually don't see on a baseball field.
No this homer didn't propel the Mets into the playoffs, or win a pivotal game, but it was the perfect storybook ending for a guy who wanted nothing more than to be a Met.
— Tyler Plofker (@TylerPlofker)
October 10, 2015 — Yoenis Cespedes's NLDS Bat-Flip
This seems appropriate, because it is a highlight I have only seen as…well, a highlight. I  was working the NLDS for Baseball Prospectus, which in addition to being a weirdly surreal experience, meant I had to act like a member of the working press. So like a good member of the working press, I was charging my cell phone in the media lounge during the game's middle innings. The lounge had plenty of TVs, of course (as well as Keith Hernandez watching, keeping score, and complaining about first base defense, despite not being on air) and piped in the radio feed as well. The radio feed was live, and thus a bit ahead of the TV broadcast. So I heard Wayne Randazzo's call before I even saw the Alex Wood pitch. I also felt the stadium shake. That will clue you in. The home run was majestic, an exclamation point on the first Mets home playoff game since the unpleasant denouement of 2006. But I haven't watched that clip roughly 350 times because of the home run. Cespedes hits crazy bombs all the time. It's part of his charm. No,  this is my favorite Mets highlight because of the bat flip. It's mesmerizing. The Mets still had to beat one of Kershaw or Greinke again, and as that bat lands, you are convinced it is going to  happen. Yo knows.
— Jeffrey Paternostro (@jeffpaternostro)
October 30, 2015 — David Wright's World Series Home Run
David Wright's home run in Game 3 of the 2015 World Series will always have special meaning for me. Strictly on a personal level, it was the first World Series game I ever attended in person. It was the only game the Mets actually won during the World Series. And Wright gave the Mets an early lead in dramatic fashion by going deep in his first home at-bat in his first World Series appearance. It felt appropriate but also long overdue. Years of frustration and disappointment released in one swing. It was palpable. Knowing all that he had to go through to make that moment possible made it even more special. The rest of that weekend didn't go according to plan, but I can always look back at this video for some warm-fuzzies.
— D.J. Short (@djshort)
May 7, 2016 — Bartolo Colon's First Career Home Run
At a certain point in life, you realize your biggest athletic feats are probably in the rear-view mirror. You'll never be able to dunk a basketball. You'll never be able to hit a home run. You'll look more like Bartolo Colon than Matt Harvey when he posed nude for ESPN the Magazine. The great thing about Bartolo is he doesn't seem to care. He's enjoying every minute he gets to stay in baseball, and we get to enjoy every at-bat. A couple months ago, he hit his first career home run at age 42 — the oldest any player hit his first homer. It seemed as probable as you or I hitting a big league homer! (Well, you may have more power.) Fun, wacky, and completely unexpected? That's why I watch baseball.
— Noah Grand (@noahgrand)
Featured Photo Credit: Anthony Gruppuso-USA TODAY Sports