Somewhere over the course of the 2016 season, SNY broadcaster Keith Hernandez transitioned from a soft "mmmm" purr to a dejected sigh at the sight of a Michael Conforto swing. This transition went hand in hand with a sharp decline in performance that turned Conforto from the New York Mets' No. 3 hitter to a member of the Triple-A Las Vegas 51s in just a matter of months.
It was an unexpected step backwards for a player who burst onto the scene in 2015, adding an exclamation point to his rookie season with a two-homer game in the World Series. Much has been made about Conforto's three-strikeout, 0-for-5 nightmare against Madison Bumgarner in May causing a downward mental spiral. Others point to a nagging wrist injury that was kept quiet by Mets officials, yet required a cortisone shot last June.
Luckily for Mets fans, Conforto's performance in 2017 has put us in a position to go back and figure out what went wrong last season – because something definitely did go wrong. Despite originally being ticketed for yet another stint in Vegas to kick off the season, Conforto snuck on to the Opening Day roster and hasn't looked back since.
I won't pester you with loads of "Michael Conforto is good!" statistics, because those are readily available anywhere you look these days. What I will do, though, before moving on to the "Why was Michael Conforto bad?" statistics is plop his 2017 numbers here just so we can bask in all of his glory:

And to think that without Brandon Nimmo's tweaked hammy, Conforto might be teammates with Xorge Carillo instead of leading the Mets in literally all major hitting categories. But why? And how? Why is Conforto having a renaissance season for the ages, and how did he claw his way out of Vegas (and Terry Collins' dog house) for such a triumphant return? Let's investigate.
Heading into 2017, projection systems were surprisingly optimistic about Conforto's potential. Despite his dismal 2016, PECOTA projected the outfielder to hit .254/.329/.454 and rack up 1.3 WARP over 323 plate appearances. That performance alone would have represented a substantial improvement from last season, even as the part-time player he was initially intended to be.
First things first: it doesn't take Bill James to see that Conforto's 2016 BABIP of .267 indicated some bad luck. He was striking out more, and the balls that he did put in play couldn't find grass. This year he's up at .370, which will almost certainly meander down closer to the league average of .294.
So much ink has been spilled this year on the "fly-ball revolution" that you'd almost think the concept of infielders is defunct. At first glance, though, Conforto is not a revolutionary. He's gone from hitting 45.0% fly balls in 2016 to 39.0% in 2017. Interestingly enough, those batted balls haven't turned into ground balls, but rather line drives. This season his LD% spiked from 18.8% to 22.9%.
Alas, more line drives must mean that Conforto is hitting the ball harder, right? Exit velocity, the golden standard of Statcast's newfangled metrics, can tell us that's not quite the case. Consider the graph below: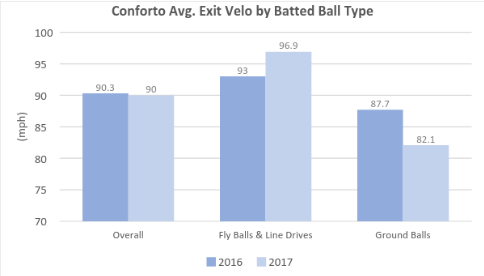 On any given pitch, Conforto actually hit the ball harder on average last year compared to this year. That doesn't do us any good. However, the noticeable difference came when I broke it down into balls hit in the air versus ground balls. Even though we agree Conforto might not be hitting the ball in the air more often, when he does go airborne, it's being hit harder. Those few extra ticks of velocity might be the difference between a fly-out and a home run, whereas the lost velocity on groundballs would turn seeing-eye singles into groundouts. While Conforto isn't easing up on the groundballs on purpose, I'm willing to bet he'd take that tradeoff any day.
Another theory on Conforto's resurgence has been his new approach at the plate. Spectators and broadcasters have lauded his ability to lay off pitches out of the zone while punishing strikes. I was personally surprised to see that this hasn't really been the case.

For those unfamiliar with plate discipline stats, "O" means out of the strike zone, while "Z" stands for in the strike zone. As you can see in the first two columns, the differences in Conforto's plate discipline are modest at best, and the latter three columns expose an interesting new trend in his swing-and-miss tendencies.
It's unusual to see a player make less contact but have more success with the contact he does make. In 2017, Conforto's contact rate of 71.21% is well below the major league average of 77.6%, yet he continues to thrive. Going a little deeper, there seem to be some interesting splits when it comes to his ability (or could it be strategy?) to make contact depending on the count.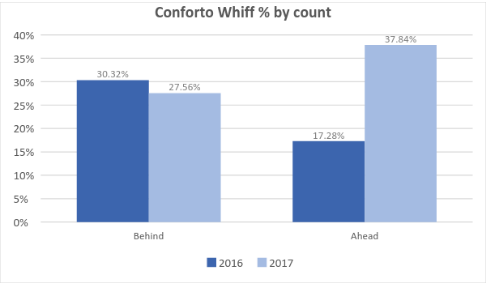 It appears Conforto has improved in putting the ball in play when behind in the count, but is actually more likely to whiff at a pitch when ahead in the count. This seems strange. In fact, Conforto whiff% when ahead in the count is fourth highest in baseball, but his overall whiff% is only 46th highest.
Now, I'm not inside Conforto's head, but the line of thinking likely has something to do with taking a more aggressive swing in those 3-1 or 2-0 counts. Sure enough, Conforto's SLG when ahead in the count jumped from a pedestrian .726 in 2016 to 1.350 in 2017. On the other hand, those hitter-friendly counts would also lead to a more predictable pitch mix, which should decrease swings-and-misses.
To recap so far, the Michael Conforto secret recipe for success is comprised of
Be lucky
Swing hard
Now that's some hard-hitting analysis.
The last piece of evidence might provide something a bit more valuable that our previous findings. A broadcaster's favorite cliché goes something like this: "When *player name* is at his best, he's driving balls the other way." Another day we'll figure out if this is actually true for the rest of the MLB, but Conforto seems to benefit quite a bit from going with the pitch. In fact, Conforto himself admitted that he may have gotten a little pull-happy last season. This neat animation below shows how his heatmap has transformed since last year.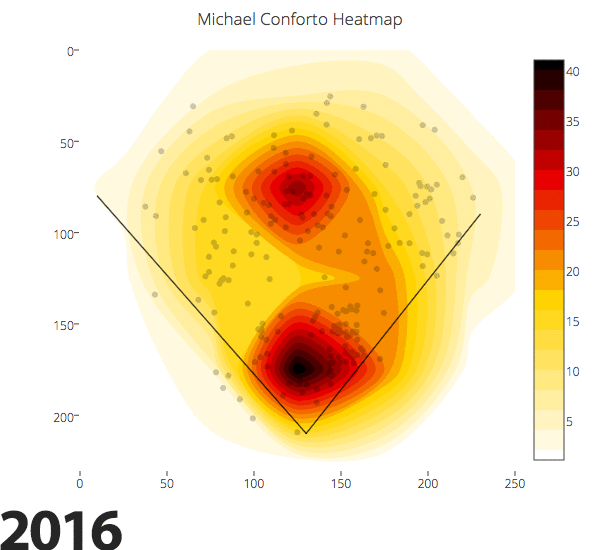 In 2016, there's a lot of red and orange on the right side of the infield, and that moves up the middle and to left field in 2017. That hit distribution from 2016 is a major reason why Conforto has faced so many overshifts, but it looks like that may be changing.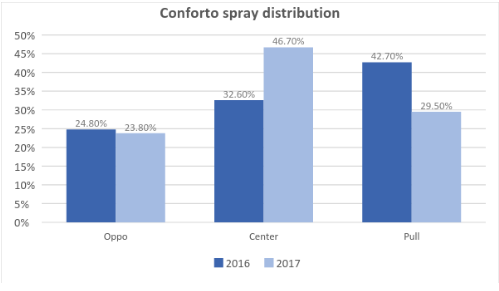 This is a pretty drastic change. His 46.7% center distribution leads the majors this season, and there isn't a shift to counter a hitter who can hit to all fields like Conforto. Teams around the league are noticing this too, and have decreased their shifts against Conforto from 48.6% of plate appearances in 2016 to 41.0% in 2017.
What's at the root of this transformation? Even though that graph doesn't show it, Conforto has gone back to taking the ball the other way. Specifically, he's learned to hit the outside pitch to the opposite field instead of rolling over it. Check out this spray chart animation of Conforto against only outside pitches.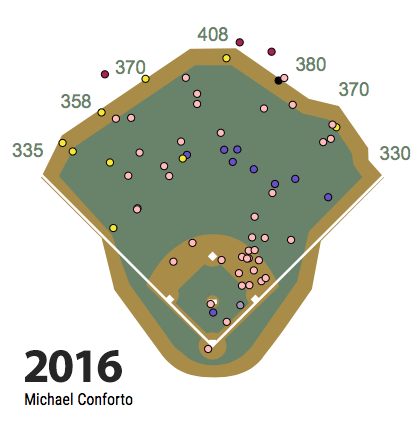 The huge clump of grounders to second is gone, and there's a considerable number of balls beyond the fence out in left field. How did he make this adjustment? To figure this out, we're going to have to move outside of the familiar area of statistical analysis.
Full disclosure: I'm not a scout, and was never a particularly successful hitter in my playing days. That being said, we're going to take a look at some video. First, a wonderful example of Conforto taking an outside pitch to the opposite field for a home run in 2017:
Second, a less wonderful example of Conforto rolling over almost the exact same pitch for a groundout in 2016:
So there you go. One of those outcomes is obviously preferred, and we're here to figure out how Conforto has managed to turn the less preferred outcomes into the preferred outcome on a regular basis this year. Let's start with his stance.

This year (on the left) Conforto's hands sit lower holding his bat more upright than before. You'll notice that the bat doesn't even go behind his head at all. This presumably simplifies the bat-to-ball path, with less hand movement leading up to contact.

While there wasn't a significant change in his stride, there's a noticeable difference in Conforto's mechanics as the ball approaches the plate. In 2016, Conforto "cheats" as his hips begin to rotate along with his torso, and you can't see the number on his back. This year, his upper body remains in almost the same position as in his setup, and you can still see the number on the back.

At contact, the big change comes with Conforto's hips. His hips remain pivoted towards the ball on the left, allowing him to stay balanced and drive the ball the other way. On the right, his hips are already facing the pitcher, and he's begun the process of pulling off the ball away, resulting in a weak grounder.

Last, Conforto's follow through takes on two different shapes from year to year. His hands are pulled completely across his body after the groundout, and he isn't pushing off on his back leg. After the homer, there's more of an uppercut followthrough (which isn't a bad thing anymore!), and it's clear that there's a lot of power coming from his back leg.
Conforto is back to having one of the sweetest left-handed swings in baseball, and Keith seems thrilled to remind the SNY audience of that on a nightly basis. Hopefully for Conforto and Mets fans alike, both the adjustments and the results are here to stay.
Photo credit: Noah K. Murray – USA Today Sports