Monday Takeaway
Let's say a Mets fan went off the grid this week for a tropical vacation. Today, this fan returns and breathlessly asks, "What did I miss?" The short answer would be, "Not much." The Mets lost on brutal walk-offs in Denver, got steamrolled by the Dodgers, and Hansel Robles can't feel his fingers. However, there is one piece of news that would brighten their mood: Amed Rosario was called up.
The rookie shortstop has electrified the Mets since joining them on Monday. So far, he has a career-opening five game hit streak. Two of those hits were blistering triples, where he reached a top speed of 29 feet per second. Triples are pretty common for the 6'2, 190 lb Rosario, as he has 22 of them since the start of last season.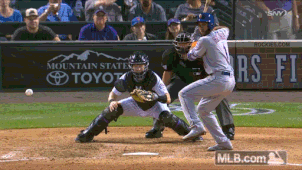 Rosario also showed off his wheels with a stolen base on Tuesday night, tying him with Jacob deGrom for 267th on the Mets' all time list. "I just try to give it my all every time I'm out there," he said through an interpreter.
Rosario may be a shortstop, but he's also improving fans' health. As one Twitter user noted, "Not having to hold my breath on ground balls is saving years from my life." The sure-handed rookie has played clean ball in his first week outside of a misplay in his MLB debut.
Outclassed by LA
Saturday's game was shaping up to be a good one. Michael Conforto, Wilmer Flores, and Curtis Granderson mashed three first-inning blasts off Dodgers lefty Rich Hill, who had previously given up three homers in 255 plate appearances. Seth Lugo then led off with 4.2 hitless innings and dominated by retiring 14 of the first 15 batters, with strong glove-side command and a hard slider. Nevertheless, the 78-32 Dodgers hit five home runs on the way to a 7-4 win. The sky is blue, the grass is green, and these Dodgers are historically great.
The loss was painful, but not exclusively so. One highlight was Granderson's outstanding diving catch in the second inning. Statcast rated the play "four stars," as Granderson covered 41 feet within a 3.4 second window.
SNY announcers Keith Hernandez and Gary Cohen also lightened the mood when they summoned the Good Humor ice cream man to their booth. The announcers gleefully fished a caramel cone and ice cream sandwich out of the bag. "Is there a game on?" Hernandez asked.
The Mets played the Dodgers for the Sunday night ESPN game. It seems like every time Steven Matz pitches, he's looking to rebound from his last atrocious start. Indeed, his rebound attempt was blocked sharply and decisively by the Dodgers. Matz gave up three runs in the first, followed by a two-run opposite field homer to Justin Turner in the third. The Dodgers left Queens with a clean sweep and a 6-0 record against the Mets this season.
Hansellian Tragedy
The Mets' Thursday matchup against the Rockies had the air of a comeback win. They were down early by two runs, yet managed to score a run in each of the next four innings, including a laser shot by Yoenis Céspedes. As fate would have it, the two teams entered the ninth tied 4-4.
Sending in Hansel Robles to subdue a powerful Rockies lineup was an unmitigated disaster. Robles cruised through the eighth inning, but entered the ninth by hitting leadoff batter Jonathan Lucroy, intentionally walking Charlie Blackmon, and walking DJ LeMahieu on five pitches to set up star third baseman Nolan Arenado for the game-winner.
It looked like the game would go into extra innings, as Arenado was behind on an 0-2 count. Robles proceeded to walk Arenado, with the final pitch soaring over d'Arnaud's head and hitting the backstop with a mournful thud. "I've never thrown a pitch like that," Robles said afterwards. He later admitted to feeling numbness in his fingers and complained of pinched genitals.
Defensive Play of the Week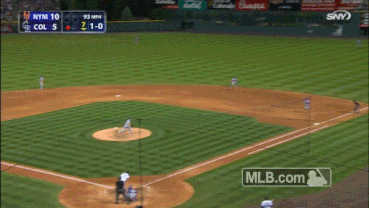 Reyes snares a line drive and makes the out from first base. Just a reminder that he's been worth negative 1.1 war this season according to Baseball Reference.
Injury Update
Noah Syndergaard is probably a couple weeks away from bullpen sessions, but Alderson said that "we expect him to pitch here again this season."
Jeurys Familia may return to the Mets in the third week of August. He has been out since May with an arterial clot in his right shoulder.
Hansel Robles is being examined in light of his numb fingers and 'pinched genitals' from Thursday's Denver debacle. Alderson said, "He was evaluated clinically. He's undergoing an MRI, so we'll see what the results are. We had a little difficulty figuring out what to MRI, but he's getting an MRI." He must be feeling better, as he made a pitching appearance against the Dodgers on Sunday.
Other Notables
LHP David Peterson, the Mets' 2017 first round pick, made his MiLB debut on Friday with the Single-A Brooklyn Cyclones. In one inning of work, he allowed two hits, struck out one, and gave up one run. "It's exciting for me because I've seen how the organization takes pride in their pitching, especially the young pitchers and developing guys and moving them up. So it was definitely encouraging for me when I got drafted," Peterson said.
On Monday, the Ron Darling Foundation held a charity golf tournament in Westbury, New York to raise money for diabetes research.
Noah Syndergaard made an appearance in Sunday's episode of "Game of Thrones" as a Lannister soldier, which is more game action than he's gotten in months.
Bryan Cranston was on the field before Sunday's game. He chatted with Amed Rosario and Michael Conforto, although he's known to be a Dodgers fan.
The Tampa Bay version of Lucas Duda is hitting .296/.459/.667 with three home runs in nine games. He's trying to emulate the Murphy/Turner Model of 'players who leave the Mets and become a superstar, and it's working so far.
Photo credit: Isaiah J. Downing – USA Today Sports