In the third game of last week's Subway Series matchup, Paul Sewald found himself in a situation that every pitcher across the league would like to avoid. It looked something like this:
Tie game
Bases loaded
Batter: Aaron Judge
Less than ideal, don't you say? Judge is an MVP candidate this season who's become known for hitting towering home runs into the third deck of MLB parks. Paul Sewald, on the other hand, has proven himself to be a perfectly capable member of the Mets bullpen over his first 50 innings in the majors. Despite that, it wasn't exactly a fair fight.
Sewald knows this, and told me during a previous homestand how he relies heavily on scouting reports to develop a game plan against opponents like Judge. "I feel like my fastball isn't 98-100 mph where I can just say 'here it comes,' so I have to have a set game plan. I've always had that mentality where if I know the hitters' weaknesses, I can try to attack it," he said.
After hearing that tidbit from Sewald, I thought it'd be a fun exercise to follow along through a few of his at-bats masquerading as a scout/pitching coach/baseball operations intern/Paul Sewald himself. We'll basically gather our own scouting report, and see if Sewald connects the dots on the mound as we'd expect him to.
Let's start with that Judge at-bat. All season, pundits have looked at this 6′ 7″ specimen and declared that there must be a hole in that enormous swing of his. And all season, Aaron Judge has continued to crush bombs with an apparently hole-free swing. The key word here would be apparently. Take a look at this chart from BrooksBaseball depicting Judge's whiffs by location.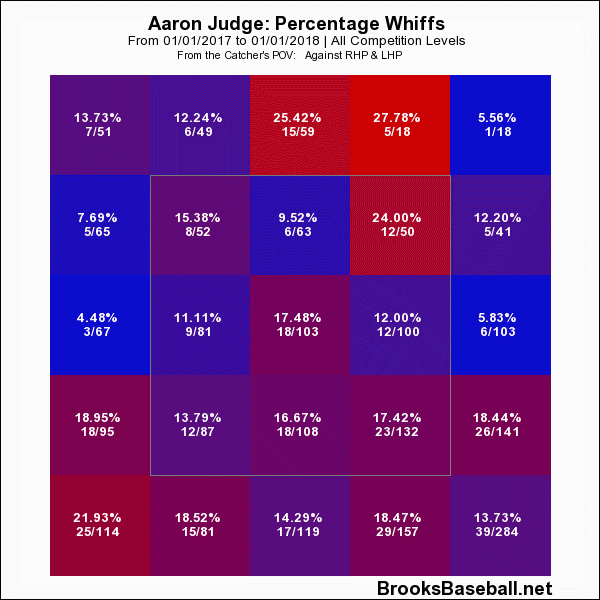 This chart confirms that it's actually not so challenging to get a pitch past Judge. Still, though, there is one area where Judge appears to struggle more than others: in that top-right section of the strike zone (up and away from a right-handed batter), where Judge whiffs on almost 25% of pitches. Now, we'll see the pitch chart for the Sewald v. Judge at-bat followed by a pitch-by-pitch video sequence of the showdown.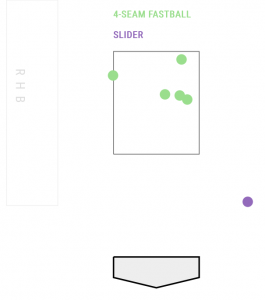 Well that was a pretty clear pattern if I've ever seen one. Sewald lived on the outside edge, quickly jumping out to an 0-2 count before wasting a slider well off the plate. Then, he challenged Judge with two consecutive pitches in his "cold" zone before jamming him inside to get the pop up. You might notice, though, that Rene Rivera actually set up again on the outside corner, but Sewald missed his spot, luckily missing far enough inside to generate the weak contact.
Next, Sewald goes up against a slightly less formidable opponent in Odubel Herrera. The bat-flipping Phillies center fielder is a different type of hitter than Judge, so he'll require an entirely new game plan.  Herrera isn't known to be the most disciplined hitter, so let's start with a look at his plate discipline numbers.

Sure enough, Herrera's been doing a lot of swinging this season. His O-Swing% is 10th highest in the MLB among qualified hitters, and pitchers have begun to take notice. Herrera also sees the 19th fewest strikes in the league with a 43.7 Zone%. That's a pretty clear scouting report, so let's see how Sewald attacked (or maybe didn't attack) Herrera in their matchup.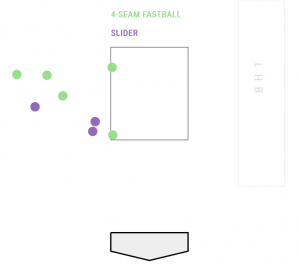 Of the eight pitches that Herrera saw in that at-bat, only two were strikes. Even those two were borderline pitches just on the corner! It was clear that Sewald wasn't going to challenge him in the strike zone, but that didn't stop Herrera from flailing hopelessly at a tailing fastball that was 1.39 feet off the plate for strike three. All in all, a great job of executing here by Sewald to tease Herrera with a few pitches close to the zone before going for the punch out.
Moving on, we'll see Sewald face Keon Broxton now. Personally, I was able to take one look at Broxton in the batter's box and know exactly just what his weakness would be. Go ahead and scroll down to the video thumbnail below to see if you can figure it out. I'll wait!
Look at how far off the plate this guy stands! Maybe it's the SNY camera angle or something, but I can't fathom a way for him to cover a pitch on the outside part of the plate.  Enough with the assumptions, though. Here are Keon Broxton's wOBA splits looking only at inside and outside pitches.
For comparison's sake, that .415 wOBA on inside pitches is practically equal to Giancarlo Stanton's full season mark, while the .193 wOBA on outside pitches is almost identical to Jon Lester's overall performance this year. Pitch Broxton inside, and you get Giancarlo Stanton. Stay away, and you get Jon Lester. What say you, Sewald?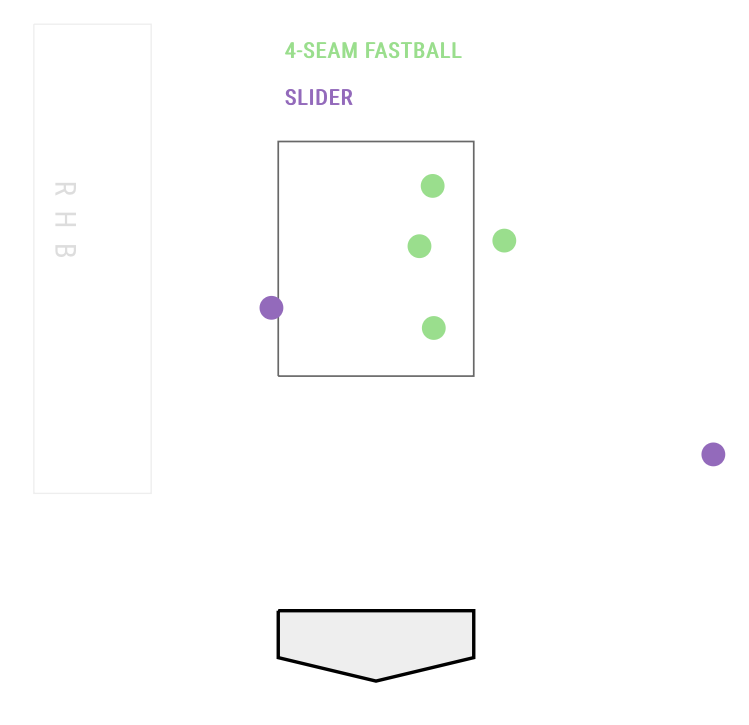 Excellent choice. For most of the at-bat, the catcher was content to sit himself right on the outside part of the plate, and let Sewald hit the spot with his fastball. Apparently, Broxton was just as content to watch those fastballs cross the plate en route to an 0-2 hole. After trying to get Broxton to chase twice (which he also has been known to do), Sewald momentarily relented into throwing a 2-2 hanging slider inside. Broxton's eyes lit up, but all he could do was foul it off.
Lesson learned; Sewald blew Broxton away with fastball perfectly spotted up and away. Without a radar gun, Broxton's feeble swing might make you think that Sewald offers a fastball in the upper-90s. The truth, though? That fastball registered at just 90 mph.
That's what's so neat about scouting reports. This seemingly endless supply of data is just like having all of the answers to the test before you take it! In Sewald's case, his 90 mph fastball is the equivalent of not studying, and getting Aaron Judge to pop up is like getting an A on the test anyway.
That's not to take anything away from Sewald, but it's been fascinating to see how the rookie middle reliever leverages the information available to succeed in the majors despite not having eye-popping "stuff."
Photo credit: Isaiah J. Downing – USA Today Sports