Monday Takeaway
The MLB draft system rewards teams that rack up losses, since the worst teams get their pick of the best available players. That's one thing to look forward to in the Mets' unfortunate season, as they're currently languishing with a 54-68 record.
The week began with a Subway Series in the Bronx. The up-and-coming Yankees swept the Mets through four games and dominated them in every conceivable fashion. When Curtis Granderson and Yoenis Cespedes homered on Monday, the Yankees fired back with three home runs. When the Mets mounted a comeback on Tuesday night, Aroldis Chapman settled down and closed out the game. When the Mets scored early on Wednesday, Aaron Judge responded by clobbering Robert Gsellman's fastball into the third deck. "If that ball went 500," Chase Headley said, "no ball's going 500. That ball was crushed." Thursday's game was miserable but for Grandy's grand slam in the ninth.
Their series against the Marlins was mildly better. After all, Saturday's game marked the Mets' first (and only) win last week. Rafael Montero pitched his second solid start in a row, and he was supported by double plays in four consecutive frames and the Mets' seven-run outburst in the sixth inning.
Mets GM Sandy Alderson famously told reporters that "we still have inventory" after the July trade deadline. His statement doesn't ring as true now that the Mets traded Granderson to the Dodgers and Rene Rivera to the Cubs. This season, they've also dispatched of Lucas Duda, Jay Bruce, Addison Reed, and Neil Walker.
Position Switching Silliness
Terry Collins found out before Wednesday's game that he was lacking an infielder, as both Jose Reyes and Wilmer Flores were injured. He naturally called upon catcher Travis d'Arnaud to fill the vacancy, who had never played third base professionally. His defense was blissfully without incident. Nevertheless, the box score shows that Collins swapped d'Arnaud and Asdrubal Cabrera's positions 23 times. That's not normal.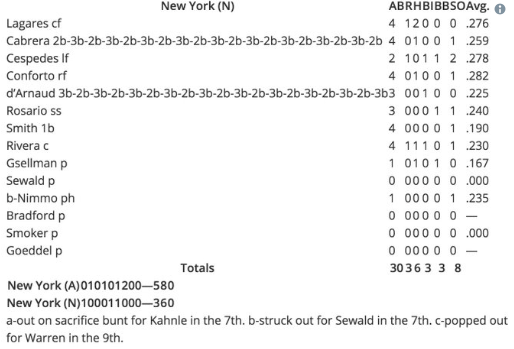 Granderson to LA
The Grandy Man can… take home a World Series ring. Mets OF Curtis Granderson was traded to the 87-35  Dodgers on Friday in exchange for cash and RHP Jacob Rhame. "A little bittersweet," Granderson told SNY after Friday's game, "but an opportunity to be able to go play in the postseason is exciting." The 34-year-old is in the final year of his four year, $60 million contract and will join the Dodgers' already formidable outfield, which includes Yasiel Puig, Chris Taylor, and Cody Bellinger.
Granderson has played 14 years in the majors, as well as in two World Series, but he's never won it all.  This year may be his best opportunity. The Dodgers are on pace to win 116 games, which would tie the 2001 Mariners' all-time record. Further, Baseball Prospectus gives the Dodgers 100% playoff odds and a 1-in-4 chance of winning the WS. Fivethirtyeight is even more optimistic, giving them 33% odds of winning.
His final hit as a Met was a grand slam against the Yankees, and his first Dodgers hit was a solo home run in Detroit. We'll miss you, Grandy!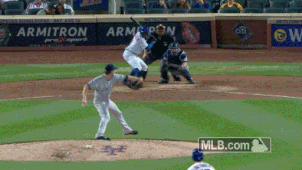 Quick Hits
Catcher Luis Lebron of the Gulf Coast League Mets was suspended 25 games for violating minor league drug rules. Since his first season in 2014, he's hit .230/.286/.326 with 5 HR in 383 AB.
Curtis Granderson is known for being a class act. On Thursday, he surprised Mets employees "to thank them for their hard work." I would seriously consider voting for him if he runs for office. Now at the plate, Senator Granderson…
In other news, Mets catcher Rene Rivera was awarded to the Cubs on a waiver claim. The team subsequently called up Kevin Plawecki and Tommy Milone.
Jacob Rhame, whom the Mets acquired in exchange for Granderson, is a right-handed reliever in Triple-A. He possesses a high 90s fastball and a career 3.11 ERA in the minors. Perhaps Rhame's best attribute is his low 5% walk rate and 5.5 K/BB ratio.
Mets 2016 second-rounder Peter Alonso explains his resurgence to the New York Post. After he broke his hand, his stats suffered and he was "a very angry person." He bounced back this year to hit a league-leading 16 home runs in the Florida State League, adding that he "used that failure as motivation to come back and… persevered through it." The 22 year-old is now hitting .285/.360/.530 despite his slow, injury-marred start.
Travis d'Arnaud played third base this week. Is Cespedes next?
Injury Update
Robert Gsellman returned to the rotation on Wednesday (hamstring strain), but there was some drama involved. In response to Sandy Alderson, who said that he had to start pitching better, he said "I don't care." The GM gave him a pass for now, yet he hinted at "the potential consequences of that statement."
On Tuesday, Thor threw his first bullpen session since his lat injury. Matt Harvey also threw three scoreless innings in his second rehab start for the Class-A Brooklyn Cyclones. In the midst of this positive news, Seth Lugo was placed hit the DL on Monday with shoulder impingement. According to the Newsday, the shoulder issue is relatively mild and should recover with rest. The real concern is Lugo's right elbow, since he has been pitching through a partially torn ligament since spring training.
Jose Reyes left Thursday's game with a left oblique strain. He was then placed on the 10-day DL, causing Matt Reynolds to be called up from Triple-A. Unfortunately, he missed 17 games in late July with the same injury.
Photo credit: Adam Hunger – USA Today Sports