Monday Takeaway
If it's true that "the more, the merrier," then the Mets' DL is partying like it's 1999. Posterior capsule tears, compressed ulnar nerves, torn ulnar nerves, stress fractures, oblique strains, and countless other maladies have decimated the Mets this season.
Their pitching staff is in shambles – Zack Wheeler, Matt Harvey, and Steven Matz are all on the DL despite ranking in the Mets' top seven for innings pitched. The Mets' less-than-inspiring offense, already weakened by recent trades, has also suffered two key losses over the past week.
Michael Conforto's breakout season ended with one painful swing against the Diamondbacks on Thursday. After whiffing on a 95 mph fastball, the All-Star outfielder collapsed to the ground in agony. X-rays initially showed a shoulder dislocation, but follow-up tests revealed a tear. "He's been the heart of this team all year," said first baseman Dom Smith. "It's a blow to our spirits and emotionally you feel for him."
Fellow outfielder Yoenis Cespedes left Friday's game with a right hamstring strain after pulling up short rounding third base, appearing unable to put weight on his right leg. Mets beat writer Marc Carig noted that Cespedes missed six weeks last year with the same kind of injury, so it would be "no shock" if he's out for the season.
Losing two outfielders to freak accidents, as well as Matz to shoulder surgery, is an astoundingly bad week by any standard. Is the training staff to blame? And how much longer must fans endure Matt Reynolds in the outfield?
On the bright side, David Wright is playing rehab games for the St. Lucie Mets. This positive news came out of left field, so to speak, as he's been battling shoulder issues since spring training.
In a nutshell: This week, the Mets faced the Diamondbacks in Queens and went 1-3. The series featured a tenth inning homer by AJ Pollock, an uninspiring Tommy Milone start, Dom Smith's 3rd career home run, Conforto destroying himself on a swing, and offensive impotency against Robbie Ray.
From there, the Mets traveled to Washington and went 2-2 against the playoff-bound Nationals. Jacb deGrom pitched exceptionally, allowing one run over 7.2 innings in Friday's 4-2 victory. Gsellman, on the other hand, allowed 11 baserunners over four innings on Saturday, while Seth Lugo and Tommy Milone were productive enough on Sunday.
Bad Lefty Replaces Injured Lefty
Steven Matz underwent season-ending surgery on Wednesday for the ulnar nerve in his left elbow. The lefty reportedly pitched through persistent pain this year, even though he refused to acknowledge any health issues. The injury was only reported after Matz met with team physician David Altcheck on Monday.
It's becoming apparent that the Mets egregiously mishandled Matz's injury. The left-handed pitcher reportedly received multiple pain killing injections before starts to stifle the pain of "an elbow that at times swelled to the size of a grapefruit." He has also been cutting short or skipping bullpen sessions to lessen the workload on his elbow. These actions, Matz insisted, were merely experiments in his routine. He now reflects that he "wasn't able to work on the stuff I wanted to."
Manager Terry Collins may have known about the young pitcher's issues, since he told Matz to avoid throwing sliders on Monday night. Nevertheless, Collins offered little transparency with reporters. "This is not an injury, this is not an injury," he said before Monday's game against the Diamondbacks. "It's just an issue of he needs to shut it down for a little while… If he had to, he could pitch tomorrow."
Needless to say, Matz did not pitch "tomorrow." Tommy Milone, a left-hander with a career 4.46 FIP, has taken his place in the starting rotation.
Wright is (on the way) back
On Tuesday, the team announced that David Wright is beginning his rehab with the St. Lucie Mets. The former franchise player hasn't played in a professional game since May 2016. Since then, he's been plagued with spinal stenosis, a herniated discs, and shoulder issues during spring training.
Twitter account "MLB Jesus" had some insight on the situation: "David Wright, my son, seek out the healing hands of @TimTebow and thou shalt be healed. Seek him, and thou shalt return to the majors soon."
Terry Collins heading out?
The Mets are 16 games under .500 and almost two dozen games behind the Nationals. Somebody will have to shoulder the blame after this season, and Terry Collins may be the scapegoat. The longtime Mets manager has overseen a team riddled with injuries, plagued by underperformance, and gutted by trades. His heralded pitching staff has all but disintegrated this season, with deGrom the only consistent performer. He also watches over the 2nd youngest team in baseball now that they've traded Duda, Reed, Bruce, Walker, Rivera, and Granderson.
Mets officials have not commented on whether Collins will return next season. Moreover, Jon Heyman reports that "it hasn't been discussed at length between Collins and his bosses, either." He speculates that Mets bench coach Dickie Scott and Dodgers bench coach Bob Geren are possible managerial candidates.
Grandy Update
Curtis Granderson was traded last week, but he's still in our hearts. The new Dodger hit .148/.324/.481 with three home runs in his first seven games in Los Angeles, including two homers against the Pirates on Thursday, one of which bounced off the concourse and into the Allegheny River.
In response to the offensive outburst, Grandy replied with characteristic modesty. "It's not necessarily me doing anything," he said. "This is what they've been doing all season long. I'm just trying to fit in." The Dodgers are on pace to tie the major league record of 116 wins.
Defensive Play of the Week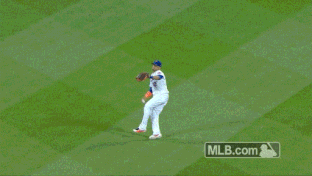 Juan "Angelo" Lagares' infamous cannon is deployed on Wednesday against the Diamondbacks.
Photo credit: Brad Mills – USA Today Sports