Monday Takeaway
Matt Harvey is moving farther and farther away from his former self. The struggling right-hander had a rough Monday night against the Marlins, allowing seven runs, twelve hits, and two walks over four innings. "You're going to write what you're going to write anyway," he told reporters post-game. "And obviously, it's deserved. So whatever you want to write, there's nothing to say."
Tuesday's game was shaping up to be a feel-good victory. Seth Lugo limited the Marlins through five frames, while both Jose Reyes and Travis d'Arnaud contributed solo home runs. The Mets also had a 4-1 lead entering the ninth inning. In what the New York Daily News then described as a "horrific homecoming," A.J. Ramos proceeded to give up three runs in the ninth, making way for J.T. Realmuto's game-winning homer in the tenth against Paul Sewald.
In March, prospective Supreme Court Justice Neil Gorsuch labeled attacks on the federal judiciary "disheartening" and "demoralizing." One might use the same adjectives to describe Wednesday's loss to the Marlins. Not only did Marlins righty Jose Urena pitch eight innings of two-run ball, but Justin Bour, A.J. Ellis, Miguel Rojas, and Giancarlo Stanton all hit home runs. The sole bright spot was Brandon Nimmo's seventh inning homer, his fourth of the season.
Travis d'Arnaud had his best game of the season on Friday. He blasted two home runs, including a go-ahead three-run blast in the fifth inning. "It's definitely nice," d'Arnaud said. Thankfully, the Mets' seven runs were enough to keep Robert Gsellman afloat. He allowed six runs over five frames, which was sufficient to surpass Edwin Jackson's miserable performance.
Mets flamethrower Noah Syndergaard, who has been sidelined since April 30 with a torn lat muscle, returned on Saturday against the Nationals. He pitched one scoreless inning, throwing only five pitches, and then turned the ball over to Matt Harvey. "We just want to get him back on the mound, if only for a moment, before the season ends so he's back out there and gets re-familiarized with the circumstances and the fact he's in a big league game," said Mets GM Sandy Alderson before Friday's 7-6 win.
Collins Retirement Rumors Gaining Steam
Sixty-eight-year-old Mets manager Terry Collins is considering retirement after this season, according to Kristie Ackert of the Daily News. She reports that "there have been no talks to extend his tenure" once his contract expires at the season's end, and "team sources" privately expect him to retire.
Last October, Collins told ESPN's Adam Rubin, "I've always said a lot of it will be dictated by how I'm feeling. This was a tough year."
The Mets are reportedly considering candidates more attuned with sabermetrics and data-driven management. Ackert also speculates that two former Mets coaches, Bob Geren and Chip Hale, are considered "high on the Mets' list" due to their familiarity with the team.
Syndergaard Comments on Climate Change
Thor, the god of thunder and lightning, jokingly connected America's withdrawal from the Paris Climate Accord on June 1 to the bombardment of hurricanes in recent weeks.
On Sept. 19, he tweeted, "U.S pulls out of Paris Climate Accord. Then hit by 4 hurricanes in 6 weeks. Global warming karma? #imatexasrepublican #wakeup."
Quick-ish Hits
Jacob deGrom reached the 200-inning mark against the Nationals on Sunday. He also recorded 11 strikeouts, which marks his career high 11th double-digit strikeout game of the season.
On Monday, the Mets will be the first MLB team to offer an augmented reality experience. Each fan to enter Citi Field will receive a "baseball-card sized AR card featuring images of the Mets' iconic Home Run Apple." This allows them to watch a virtual highlight reel of the Mets' 2017 home runs. (New York Post)
Instructional League players "helped unload the truck that was filled with the items collected for the hurricane relief drive," according to the Mets Twitter account.
During a rally for Alabama senatorial candidate Luther Strange, Donald Trump criticized NFL players for taking a knee during the national anthem. In response, dozens of NFL players (and Oakland catcher Bruce Maxwell) staged a protest during the anthem. Mets manager Terry Collins didn't condemn the protests, but he didn't express his support either. "I've got tell you, I'm not a big political guy, not by any of stretch of the imagination," he said before Sunday's game against the Nationals. "I respect our country immensely… We do have rights here, which other places don't. I respect that, also. But I'm proud of my guys that they go line up every night, stand and face the flag.
This New York Post piece explores Brandon Nimmo's patient offensive approach, which he attributes to his father's advice. "My dad was always big on swinging at strikes and letting the other ones go," said Nimmo. "He was always, 'Take what they give you, because they have got to throw it over the plate for you to do damage.' That was always instilled in me since I was kid."
Injury Update
On Sept. 20, Juan Lagares missed the game against the Marlins with minor thumb soreness. He returned to the lineup on Saturday.
After being sidelined since April 30 with a torn lat muscle, Noah Syndergaard threw five pitches against the Nationals on Saturday. "I felt really good out there," Syndergaard said. "I felt like I was out there throwing pretty effortlessly and staying in control."
Gif of the Week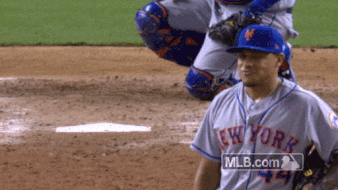 Former teammates A.J. Ramos and Giancarlo Stanton share a laugh on Tuesday night. "Hopefully I'll face him a couple of times," said Ramos before the series. "I told him I might have to do something after I strike him out, and he said if he hits a home run he might have to do something too."
Photo credit: Brad Penner – USA Today Sports