The Mets had the highest projected playoff chances of any NL East team on April 13, when PECOTA expected Terry Collins' bunch to make the playoffs over three-quarters of the time and finish with 88.5 wins. By April 18, the Mets had lost 15 percentage points off their playoff probability and the Nationals had become the favorite. One month later, the Mets' playoff odds had fallen under 17%. By June 18, they were under five percent. The odds flatlined on July 27. Here's what DumpsterFire.GIF looks like in graphical format: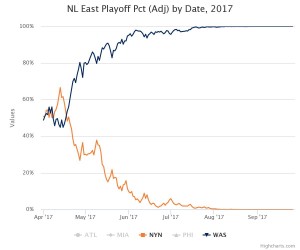 The mess of 2017 is now behind us. For some, we're already into next season. For others, that phrase is reserved until at least spring training. Either way, that graph proves that Mets fans have been waiting for next year since before the trading deadline. Is there anything worth anticipating in 2018 besides a .500 record before the first pitch on Opening Day? Yes, and here's what we're waiting for. — Scott D. Simon (@scottdsimon)
Travis d'Arnaud Finally Putting It All Together
This is probably the third or fourth season in a row that I'll be predicting a breakout from Travis d'Arnaud. He's already an above average catcher — yes, a .263 tAV and solid framing gets you there as a catcher these days — and he's once again flashing signs of more, hitting more home runs in September than in any other month in 2017.
Caveats about the diluted talent of September rosters aside, I think there's a chance d'Arnaud can make these improvements stick. Catchers often have a slow, sinuous development path, and d'Arnaud's has been slowed even further by his frequent injuries. Perhaps after a relatively healthy 2017, d'Arnaud taps into the offensive potential that made him the centerpiece of two trades for former Cy Young pitchers and becomes one of the better catchers in baseball. — Lukas Vlahos (@lvlahos343)
Terry Collins Departing For Greener Pastures
While he has generally gotten good reviews as a clubhouse manager and his in-game management is not significantly worse than that of most MLB managers, the end of the Terry Collins Era (the longest of any manager in team history) will help the team exorcise some of the demons of 2017 and begin 2018 with a clean slate. Whether they go the tried-and-true route with Bob Geren or commence a youth movement with Alex Cora (the latter, if you please), the Mets need a fresh voice. Will the new guy (or girl – we can dream!) be an improvement? Possibly not – a cursory look across the league suggests Collins was roughly middle of the pack – but the potential is there, especially if they go with an outside-the-box option like Cora or hitting coach Kevin Long. Collins, to the outside observer, had trouble reigning in strong personalities like Syndergaard, and his lineups frequently favored veterans at the expense of overall productivity. But at the end of the day, it's simply time for a fresh approach, untainted by the bitter memories of a dismal season. — Maggie Wiggin (@maggie162)
Jay Bruce Returning To The Mets
Like any team going through a transition year, the Mets dumped their expiring veteran contracts. I can't say I was thrilled with shipping Jay Bruce off to Cleveland, but I understood the rationale (kind of). In a season plagued by injuries (I've probably written this phrase 500 times since April), one of the few bright spots was the consistent offensive production of Jay Bruce. When you combine a healthy Michael Conforto and Yoenis Cespedes with Bruce, you have the foundation of a pretty formidable Major League lineup. If the Amazins are going to challenge the Nationals for NL East supremacy in 2018, they're not going to do it by relying on Juan Lagares, Brandon Nimmo, Gavin Cecchini, or any of the other fringe players that could be forced into starting roles. Sandy Alderson has to be aggressive in free agency and bring in a proven big bat. What better choice than a guy who's already withstood the bright lights of New York City and performed admirably? Hey Sandy, let's open the checkbook and reopen the New York chapter of Jay Bruce's career. — Justin Birnbuam (@birny53)
Jay Bruce Not Returning To The Mets
No disrespect to Justin, but Brandon Nimmo just posted a .300 tAV over 200-odd plate appearances. Small sample size sure, but it's better than the .298 mark that Jay Bruce posted during his 2017 Mets tenure. That speaks to the difference between Bruce's .321 OBP and the elite .390 OBP that Nimmo produced. Is that sustainable? Who knows. Is it worth giving the 24-year-old former first-round pick first crack at an outfield spot over a 30-year-old Bruce? My sources say yes, even without considering what's likely to be a nine-figure difference in salary.
Re-signing Bruce would mean that one of Michael Conforto and Yoenis Cespedes have to play center field on a regular basis. They've both expressed a preference for — and demonstrated far better defensive performance — in the corners. Bringing Bruce back buries Juan Lagares, the team's only true center fielder. Lagares led the team in FRAA despite appearing in fewer than 100 games. A platoon with Nimmo in center, with Lagares getting extra playing time as a defensive replacement and spot starter against lefties, sounds like the most efficient distribution of resources. I'd much rather see the Mets spend $15 million on a quality starting pitcher or non-Jose Reyes second baseman than on Jay Bruce. — Scott D. Simon (@scottdsimon)
David Wright Getting Healthy
Of all the injury comebacks that the Mets are hoping for in 2018, David Wright's stands alone as both the least likely and the most welcome. Seeing the captain back in uniform would fill fans' hearts with joy and Sandy Alderson's depth chart with a spot he doesn't have to spend additional money on. The 2017 season ended with the Mets' clubhouse in shambles, and having Wright's presence among what will likely be a young roster will work wonders for Terry Collins' successor. Aside from the emotional and financial benefits to be gained from Wright's improbable resurrection, we shouldn't forget that there's still a very real chance that he could make a meaningful baseball-related contribution if he can find his way back onto the field. — Adam Kaufman (@adamkaufman315)
Michael Conforto Playing Every Day
Back in 2013, Curtis Granderson fractured his right forearm after being hit by a pitch during Spring Training. He came back in May, but got hit by another pitch and fractured a finger in his left hand. People wondered if he was too big of an injury risk for the Mets to offer a four-year, $60 million contract. Granderson hasn't been on the disabled list since.
When I looked at predicting injuries earlier this year, time spent on the DL with a more serious injury wasn't a big risk factor for hitters. Mets fans should feel confident that Michael Conforto will be able to come back from his shoulder injury, too. And next year, he won't have to fight for playing time like he did the last few seasons now that the Mets have traded away outfielders. — Noah Grand (@noahgrand)
Photo Credit: Jasen Vinlove -USA Today Sports