David Wright was the Mets for a decade. He was the best part of them when there was barely anything to cheer for and where there was a lot. He was Mr. Met. And now he's leaving.
In honor of the Captain, a few BP Mets staffers pulled together their favorite memories of No. 5:
Dave Capobianco: I witnessed David Wright's World Series home run in person, but there's another memory I have of him that clearly stands above that or anything else. I've told this story before, but it's worth repeating now: In 2006, as a 9-year-old, I attended a small baseball clinic for kids that was held by Wright. He was 23 at the time. It wasn't much, just a few hitting and fielding tips for a bunch of kids in a stuffy high school gym. To be clear, Wright was getting nothing out of doing this, but he didn't seem to mind at all. Throughout the entire clinic, Wright was engaging, personable and seemed genuinely happy to be there. At the end, Wright took pictures with everyone single person there, including me: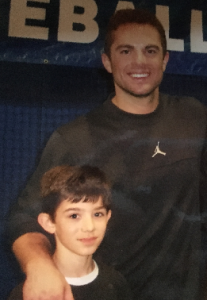 Justin Birnbaum: Mike Piazza was my childhood, but David Wright represents my formative years as a baseball fan. I could never ask for a better role model and player to represent a team that I love so dearly. When I think about Wright's career, so many memories come to mind. The image of him with his arm around Jose Reyes, covered in champagne with a cigar in his mouth after their 2006 division title is forever burned into my memory. I sat in the upper deck at Shea Stadium when he rocketed his first walkoff home run over the left field fence against the Padres. I was sitting right behind first base in right field when he knocked a single for his last walk-off hit in 2016 against the Brewers. Captain, all I can say is thank you. Thank you for being a leader. Thank you for being a role model. Thank you for being an ambassador to the game. When I have children, I want them to play the game like you — filled with passion and exuberance. The world is not fair and you were robbed of your career, but as a fan, I rest easy knowing that you left it all out on the field.
Jordan Rabinowitz: I could dig through my brain for hours trying to excavate the most indelible memory I have of David Wright doing something with bat, legs, arm or glove that actually helped the Mets score or prevent runs, (there's plenty to choose from) but ultimately it's this: David Wright realizing, after 12 Major League seasons, that he's finally going to the World Series. I feel secondhand catharsis every time this GIF loops. You watch that and understand that Wright wasn't just a player happy to finally reach the World Series, he was a player happy to finally reach the World Series as a Met. What began in 2004 as hope, followed by bitter disappointment, followed by bitter-er disappointment, followed by waste, followed by hope again — it all culminated in this moment. It's perfect, and thanks to GIF technology, it can be endless.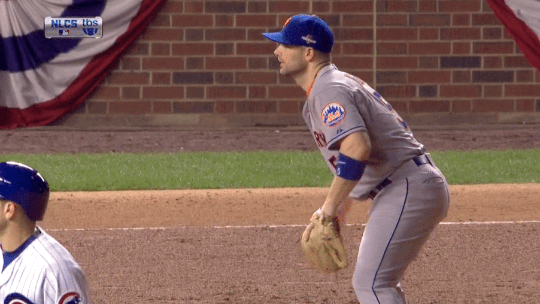 Photo credit: Brad Penner – USA Today Sports