Soon? The Mets might already be back on track. Four home runs on Friday. Three more dingers on Saturday. Then an utter annihilation of Cy Young winner Corey Kluber on Sunday. But even with the weekend outburst, the Mets scored only 31 runs in their first 10 games, a poor performance that ranked 27th out of 30th in MLB. Stated differently, through April 16, the Mets' offensive VORP of 3.0 exceeded only those of the Phillies and Padres in the National League — and trailed the league-leading Cardinals by a mere 45 VORP.
Maybe some time using a designated hitter was necessary to get the Mets hitting again. Maybe it's just been cold outside. We're confident the team won't spend all summer scrimping for runs. Here's why. — Scott D. Simon (@scottdsimon)
The New David Wright Is Still Valuable
David Wright's start to the season may feel disappointing. On Saturday he hit a ball off the wall and was thrown out trying to get a double. After two weeks, Wright has no home runs. On the other hand, he is walking on over 20 percent of his plate appearances. Small sample sizes are fun!
Wright would be a valuable hitter if he can maintain his .327 TAv. In all likelihood, his walk rate will regress to the mean, but his power might also settle halfway between his 2014 and 2015 levels. Wright spiraled in 2014 when he got more aggressive to compensate for declining power, hurting his ability to get on base too. A more patient David Wright should be a useful bat in the lineup all year, even if the power never fully returns. — Noah Grand (@noahgrand)
Wilmer Flores's Newfound Patience Bodes Well
Wilmer Flores, marooned to the role of utility fifth infielder by a bunch of signings, will get on a hot streak and start mashing the ball soon.
While small sample size and context caveats apply, Flores has looked like a much more selective hitter since the Mets reported for spring training this year, which has a key impact beyond his walk rate. As this 2015 heat map from Brooks Baseball shows, Flores is extremely dangerous when he can force pitchers to come middle/down and in, and not quite so much when he goes fishing:
In addition to the positive signs on his plate discipline, Flores has only gotten three starts in the first two weeks of the season — two at third in place of David Wright and one at first against a lefty. Even if the Mets stay healthy, Flores rates to get more regular playing time as all four infielders need a rest, and should replace Duda or Neil Walker against most left-handed starting pitchers. — Jarrett Seidler (@jaseidler)
Alejandro De Aza Will Mash Some Lefties
After failing to notch a hit in his first eight at-bats of the season, Alejandro De Aza broke out in the latter part of Friday's win at Cleveland, with three hits from the fifth inning on. Two of those hits came against right-handed pitchers, against whom he sports a slugging percentage a full .127 higher than versus lefties. Though De Aza suffered with an 0-for-4 performance on Saturday, the coming week's matchups are promising: six games against the Phillies and Braves, whose combined ERA is 5.34 when you remove Vincent Velasquez's stellar pair of games for the Phillies. Even more importantly, all of those teams' starters, and a majority of their main relievers, throw right-handed. De Aza should perform well against this favorable line-up, though a promotion to fourth outfielder would take a string of nights like he had in Cleveland. — Brian Duricy (@briansusername_)
It Can't Get Worse For Lucas Duda
Were it not for the similarly 6′-4″ C.J. Cron, Lucas Duda would have the lowest isolated slugging of any first baseman in the league. As-is, one double and six singles in 35 at-bats is a .029 ISO that's more appropriate for a pitcher (last year, Jacob deGrom and Bartolo Colon had .017 ISOs) than for someone with a career ISO of .201.
When we think of Mets first-base horror stories, one man unavoidably snaps to mind. But even he-who-must-not-be-named hit .337/.402/.591 at the same age (30) that Duda's at now, good for a .323 TAv. Well, Duda posted a .320 TAv just last season. His .190 mark in 2016 is bound to rise. — Scott D. Simon (@scottdsimon)
Asdrubal Cabrera's A Good Fit For Flushing
Asdrubal Cabrera has actually been hitting for average in the early part of the season, but we haven't seen much power yet. Eight of his 10 hits have been singles and he has yet to hit a home run. That should change soon. Cabrera might not manage 25 home runs again, but he has averaged 15 home runs per season dating back to 2012. He owns a .725 OPS during that same timespan. That puts him comfortably above the league average for shortstops. His home run spray chart from last season should provide room for optimism.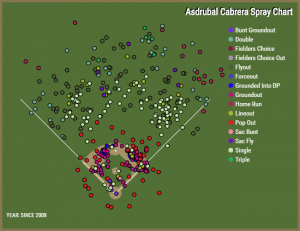 While Cabrera is a switch-hitter, he'll obviously see most of his at-bats from the left side, which is a good match for Citi Field. — D.J. Short (@djshort)
A Healthy Juan Lagares Can Contribute
Let's face it: The Mets would be in some kind of pickle if they actually found themselves needing hits from Lagares, who has functioned as a defensive replacement/fifth outfielder in the early going. The good news is that if injuries and/or miscellaneous circumstances force Collins to give Lagares extended playing time, there's real potential to see a better performance than the .245 TAv in 465 plate appearances he produced last season. Saddled with an elbow injury that popped up in late 2014, as well as a nagging rib injury, Lagares was never close to 100 percent last season. This year, he says he's finally healthy and raring to help out when needed.
With just nine plate appearances sprinkled across six games, it's hard to put a lot of stock into his .159 TAv thus far, but if Lagares can get regular in-game reps and improve his plate discipline — he's swinging at a career-high 41 percent of pitches outside the strike zone — he can make a legit contribution to an offense in need of any it can muster. — Erik Malinowski (@erikmal)
Neil Walker's Consistency Will Shine Through
When I suggested writing about Walker on April 13, he was hitting .214/.214/.321 over his first seven games in a Mets uniform. The most important two words in the prior sentence: SEVEN GAMES. For his career, Walker is both a solid and consistent hitter. He's run a .279 career TAv and only been below .274 for a full season once. Sure enough, from Wednesday to Saturday, he's 4-for-12 (.333) with two homers. Entering Sunday's game, Walker's .475 slugging percentage was 11th among MLB second baseman. He's no Daniel Murphy (.438/.538/.844 over 10 games!?) but he'll be just fine.
There are two more interesting things to at least acknowledge about the Mets' new second baseman First, both Walker's contact rate (65 percent) and his in-zone contact rate (66 percent) are far below his career norms of 81 percent and 88 percent, respectively. Second, he's also still looking for his first walk of 2016. Is he swinging more to try to impress his new employers? Ask him. Does this mean anything more broadly? Probably not, but ask me in June. — Toby Hyde (@tobyhyde)
This Is The Year For a Travis d'Arnaud Breakout
Coming into the season I was probably the high man on Travis d'Arnaud, and my optimism has not waned despite his slow start. When not on the DL for two freak injuries (no, getting hit on the hand and breaking a bone and getting one's arm destroyed on a horrible throw home don't make a catcher injury-prone), d'Arnaud absolutely mashed in 2015, posting a 131 wRC+ that tied him with Kyle Schwarber for second-best among all major league catchers. While that level is likely a bit over his head, there were no major regression indicators outside of a slightly inflated HR/FB rate. d'Arnaud has started hitting the ball well the last few games, and while the results haven't been there thanks to some poor luck, I see no worrying indicators in his early-season stats to indicate that he won't right the ship. So long as he keeps his swing short and makes the necessary sacrifices to the BABIP fairy, d'Arnaud will be raking before long.  — Lukas Vlahos (@lvlahos343)
The Grandy Man Can
Can the sheer power of my love for a player propel him out of his starting slump? If so, then Granderson's got this in the bag. At age 35, he's the second-oldest Met, which leaves some worried about his slow start. But with a .259 batting average in 2015 that's consistent with his career .256 mark, Granderson's age doesn't seem to have slowed him down yet. For now, I'll chalk it up to being the lead-off hitter for a team with a case of the jitters. In fact, Granderson already seems to be upping his game; days after I picked him for this post, he sent his first home run of the season into the stands at Cleveland's Progressive Field. — Sara Novic (@novicsara)
Michael Conforto Won't Sophomore Slump With An Improved Approach
Conforto has begun hitting and is off to a better start than any other Met, batting .276/.400/.483 through Friday's games. Perhaps the most encouraging part of his early performance has been his plate discipline. Last year, Conforto walked just 17 times in 194 plate appearances; he already has five walks in 35 trips in 2016.
Conforto had an impressive .315 TAv in 2015 anyway without walks playing much of a role. Adding that skill to his already-strong approach at the plate would be terrific. It's too early to know if this is a real development, but it's certainly nice to see. One might say that it's… conforting. — Andrew Mearns (@MearnsPSA)
A Batter of Last Resort
Overheard at 123-­01 Roosevelt Avenue, Flushing, NY:
SANDY: Riccardi, there's no way I can lose this division unless, of course, my thirteen hitters fall victim to nine separate slumps and are unable to hit this season. But that will never happen. Three slumps, that's possible. Seven slumps? There's an outside chance, but thirteen slumps? I'd like to see that.
So here we are. All else has failed. David Wright is hurt. Travis d'Arnaud is still more brittle than Mr. Glass. Yoenis Cespedes can't hit high fastballs. Wilmer Flores can't hit dick­high fastballs. Conforto drank the brain and nerve tonic. Lucas Duda is no longer good. Curtis Granderson looks like he's 35. It is, by all accounts, the darkest timeline. Who will save the Mets from offensive offensiveness? Perhaps a man 200 points under his career OPS so far in 2016?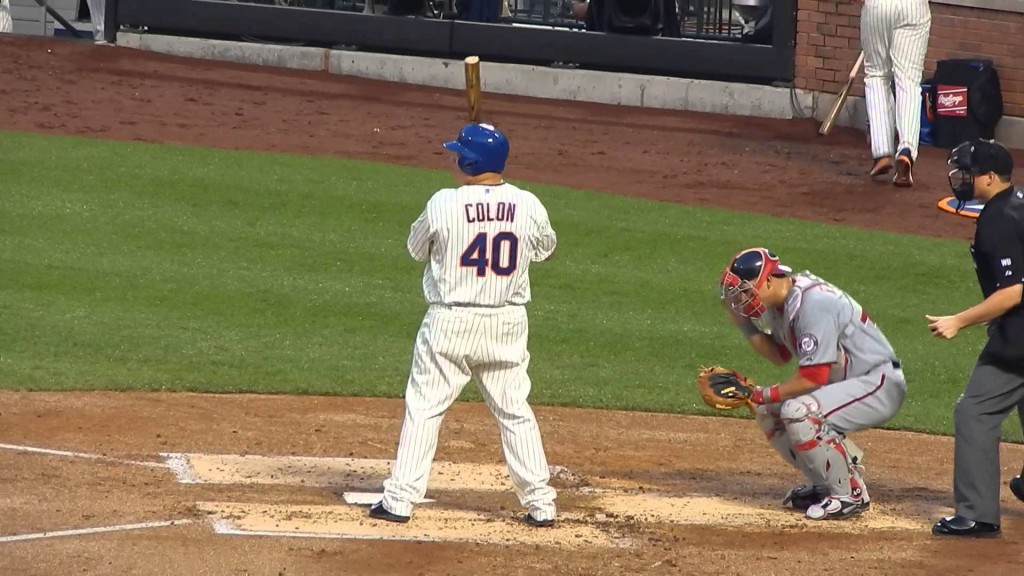 He already hit a batting practice home run in Spring Training, so we know the raw power is in there. The Mets are already experimenting with a pitcher on the bench as a pinch-­hitter in the minors, Tyler Pill in Binghamton. Could this be a trial run to see if it might work at the big club in Queens?
Pill and Colon have a lot in common, actually. They both sit in the upper 80s with their fastballs. Bart has 20 career professional hits, Pill has 19. They were both two way players at…some point in their baseball careers…probably. Okay, look, if we have gotten to this point, the situation is pretty dire with the 2016 Mets. You need something to keep you going through those warm June nights other than the prospects of a short line at Shake Shack. Giving Bartolo as many at­-bats as possible to hit a Bartolo Bomb seems like the least the team could do. — Jeffrey Paternostro (@jeffpaternostro)
Photo Credit: David Richard-USA TODAY Sports