Life comes at you pretty fast.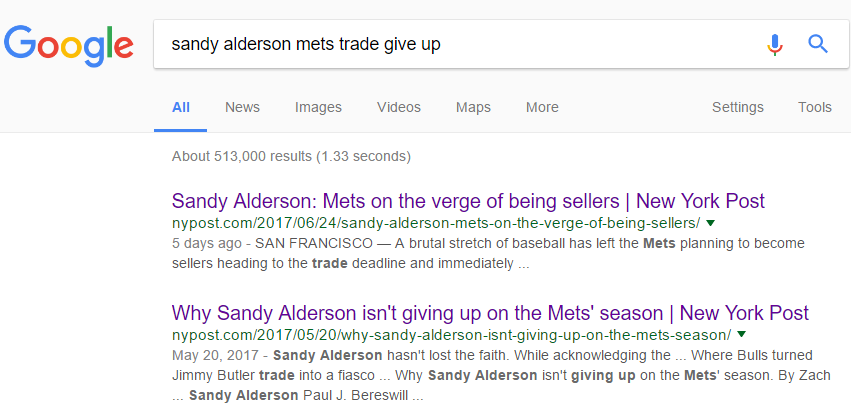 In one short month, the Mets have gone from Sandy Alderson proclaiming "A lot of the story [is] to be written," to a resigned general manager sighing, "I think we have to be realistic about where we are" and "I don't want to whitewash this. We haven't played very well." Most of that underperformance can be attributed to an injury epidemic that's infiltrated every corner of the roster. The rest is that Jose Reyes and Rafael Montero suck. Whatever the cause, the 2017 Mets have played half their schedule, and they're 38-43, nearly as far out of first place as they are close to the NL East basement. Worse, they're just as far away from the second wild-card spot.
The competitive part of the Mets' season has ended.
Yet the Mets' competitive window remains open. The 2018 rotation will feature Flushing's favorite pitcher, When Healthy. Other guys like Noah Syndergaard, Jacob deGrom, Steven Matz, Matt Harvey, Zack Wheeler, Seth Lugo and Robert Gsellman might also make some appearances.
With Yoenis Cespedes and Michael Conforto as offensive building blocks, the top-level talent is there for a 2018 return to prominence. That's why the next two months may be Alderson's most important since he became @MetsGM after the 2010 season.
The catchphrase is "retool, not rebuild." If the Mets trade their veterans on expiring or short-term contracts for pieces that will slot into next season's lineup or bullpen, the 2018 story could look a lot different than this year's. Here, then, is the Mets' inventory for a potential #FireSale that looks more realistic by the day. — Scott D. Simon (@scottdsimon)
Addison Reed
Perhaps the most valuable piece that the Mets have that they'd actually move at the deadline, Reed is a known late-inning commodity that every team would like. Finding the right fit and right return could be challenging, but I agree with Jeff and Jarrett that a prospect floating around the edges of the BP Top 100 list sounds about right. So with the surprising Milwaukee Brewers needing more 'pen arms to support a questionable pitching staff, I think they could be a nice fit, and perhaps High-A outfield prospect Trent Clark could be a return. Clark has question marks about future power production, but can likely hit for average and has speed. With the Brew Crew already possessing lots of young outfield talent, they could afford to part with him to snag an establish relief ace. — Bryan Grosnick (@bgrosnick)
Lucas Duda
Lucas Duda is a pending free agent with a pulse, so the Mets will be taking calls on him. Since becoming the full-time first baseman in 2014, Duda's 129 wRC+ ranks 25th in baseball (min. 1000 PAs) and he's on track for the best season of his career. With Dominic Smith waiting in the wings, it's unlikely the Mets would re-sign Duda, so he'll be an attractive piece to any team looking for lefty power at first base or DH.
First in line should be the Yankees, who are near the bottom of MLB in production from first base. The AL playoff race is red-hot and Duda offers the kind of prodigious power that can make a major impact in a tight spot. He's a perfect fit for lefty-friendly Yankee Stadium and it's not hard to imagine him hitting 20-plus homers in half a season there. His return would depend a lot on his competition. If fellow-lefty Eric Hosmer is also up for grabs, Duda will bring back a bit less, but a prospect in or near the team's top 10 should be within reach. — Maggie Wiggin (
@maggie162
)
Jerry Blevins
You've read above why Reed should be on the move. Much of the same logic applies to dealing Jerry Blevins. Blevins has been very, very good: Here is a list of the eight best left-handed relievers (by FIP) who have thrown at least 60 innings since the start of 2016:
| | | |
| --- | --- | --- |
| Name | IP | FIP |
| Aroldis Chapman | 75.1 | 1.39 |
| Andrew Miller | 115.2 | 1.66 |
| Zach Britton | 76 | 2.05 |
| Jerry Blevins | 68 | 2.95 |
| Boone Logan | 64.2 | 2.96 |
| Zach Duke | 61 | 2.97 |
| Brad Hand | 132 | 3.08 |
| Felipe Rivero | 119 | 3.09 |
Chapman and Miller are signed to eight-figure contracts. Britton received downballot MVP consideration last year, and will almost certainly sign for close to Chapman's $86 million over five years when he hits free agency after the season. Then you have Blevins making $5.5 million this year with a 2018 club option for $7 million. That's a bargain — and it justifies the Mets seeking more than just a fifth outfielder or C-minus prospect in return.
Maybe the Mets could flip Blevins and Reed to the Diamondbacks for Ketel Marte. Arizona already has four infielders — Chris Owings, Jake Lamb, Brandon Drury, and Nick Ahmed — under team control for next season and beyond, so it's worth flipping their backup infielder for a huge bullpen upgrade. For the Mets, Marte, who's hit .338/.391/.514 in Reno this year, with a 34:25 strikeout-to-walk ratio, could start at second base when Neil Walker is traded or departs as a free agent, or he could back up Amed Rosario at short. — Scott D. Simon (@scottdsimon)
Rene Rivera
I know, I know. 33 year old backup backups with a career .268 on base percentage are usually why you trade for an upgrade.
Alexa isn't doing shit for your catcher situation pic.twitter.com/Ik6feSJNPt

— Jeff Sullivan (@based_ball) June 29, 2017
But Rivera was a 1.5 win player as a backup last year. He's on pace to duplicate that performance this year. Now let's take a look at the eight teams most likely to make the playoffs. The Nationals have two below replacement catchers. Arizona regularly uses Jeff Mathis, a much worse version of Rivera. Colorado is using a converted second baseman who ranks poorly behind the plate. Cleveland and Boston are each getting 0.8 wins combined from all their catchers – the same as Rivera has given the Mets as a backup. Let the bidding war begin! After all, what would symbolize the absurdity of 2017 more than good teams outbidding each other for the services of a 33-year-old backup? — Noah Grand (@noahgrand)
Jay Bruce
The Mets' crowded outfield has been a problem since last offseason, when they picked up the option on Jay Bruce's contract, then signed Yoenis Cespedes. In an otherwise-lost season, the Bruce signing has paid dividends: he's second on the team in bWARP at 1.9. But with his contact expiring at the end of the season, the time to trade Bruce is now.
The Mets' could try to convince the Yankees to use Bruce as a first baseman and DH in addition to right fielder. While Bruce has played limited innings at first base for the Mets this year, the Yankees need to replace the struggling Chris Carter. He could also spell Aaron Judge and Clint Frazier in the outfield. Although Bruce doesn't have veto rights, he should welcome the opportunity to hit tons of homers over the right field wall and a chance at the playoffs.
If a Bruce-to-the-Bronx deal happens, the Mets should not expect to receive any of the Yankees' top prospects. Instead, the Mets can aim for a pitcher such as Dillon Tate, who the Yankees received in 2016 for Carlos Beltran, or an outfielder such as Billy McKinney, who has struggled recently but could be given more of a chance to play in the Mets' system. The Mets will get nothing for Bruce once the offseason arrives, so they might as well try to get whatever they can right now. — Seth Rubin (@sethrubin)
Neil Walker
Despite the hamstring injury that has sidelined him for the past few weeks, Walker is having another great year and, like a bunch of other Mets, is set to be a free agent this offseason.
With a .270/.352/.468 slash and nine home runs in just over 200 at-bats, the 31-year-old can definitely bring something to a contender needing a second baseman. The Rockies, whose D.J. LeMahieu is dealing with a groin issue, could be a trade partner should LeMahieu require a DL stint.
The defensive numbers aren't great for Walker — like for the rest of the Mets' infield — but his bat would fit into any lineup, as would his reputation as a good teammate. A possible turnoff to a deal is that the acquiring team would need to pick up a prorated portion of his $17.2 million qualifying salary, however. For a contender with a hole at second base, that could be a deal worth making. — Joshua Burton (@Josh_Burton1)
Jacob deGrom
Hear me out for just a second. I know deGrom has been pretty much the only thing the Mets have going for them these days, but there's an argument to be made that his trade value has never been higher. Since his 8-run blowup in Texas, he's won each of his last 4 starts with a 0.84 ERA over that span.
The Astros are clearly in the market for an ace, and that need might have just gotten a bit stronger with David Paulino being suspended 80 games for using PEDs. They have a slew of guys working their way back from injury (Dallas Keuchel, Charlie Morton, Collin McHugh), but could use an ace like deGrom to help take them deep into the postseason.
The Mets would be wise to take advantage of a team in dire need of pitching, while selling high on their own guy. Here's what the deal could look like:
Astros receive: Jacob DeGrom, Dominic Smith
Mets receive: Alex Bregman, Francis Martes, Daz Cameron
— Adam Kaufman (@adamkaufman315)
Asdrubal Cabrera
Putting aside his reported (and then retracted) trade request, it makes sense for the Mets to move on from Asdrubal Cabrera with Amed Rosario waiting in the wings. Cabrera isn't the smooth defender he once was, but a recent move to second base could give the twilight years of his career a second life.
The Mets could match up for a Cabrera trade with the Angels, who currently find themselves 1.5 games out of the Wild Card despite receiving little to no production at second base. With a team option for 2018 on the table, Cabrera could fetch a middle-tier prospect from the Angels like OF Trey Montgomery, or RHPs Abel De Los Santos and Elvin Rodriguez. — Justin Birnbuam (@birny53)
Fernando Salas
Salas is a free agent after the season, so any future value derived from the righty will likely come through trade. Unfortunately for the Mets, he has struggled this season. The walks have been an issue, but some of his peripherals suggest he has pitched better than his ERA. If a team thinks they can reign in his control, they may look to acquire him at a reduced cost. Most contenders will look to reinforce their bullpens before the deadline, but those that have especially struggled in the pen are the Nationals, Twins, and Rangers. Mets fans should not expect any kind of impact talent in a trade, but perhaps Salas could be packaged with one of their more attractive pieces to sweeten the return. — Zane Moran
Curtis Granderson
Traded, along with $3 million, to the Chicago Cubs for RHP Thomas Hatch and RHP Dakota Mekkes
I would like to start off with a disclaimer here that I am not entirely sure the Mets trade Curtis Granderson. I think he is the sort of veteran that the Mets would like to keep around as they sell off other pieces at the deadline and potentially re-sign in the offseason. However, I'm going to operate here under the assumption that the Mets trade him to a contender and give him a chance to contribute to a playoff contender in his age 36 season. Unlike every other rental that could be traded at the deadline, I believe Granderson, and only Granderson, stands a decent chance of re-signing with the Mets this winter even if he spends the last few months of the 2017 season with a different club. With that in mind, I believe one of the strongest fits for Curtis might be the defending World Champion Chicago Cubs.
With the demotion of Kyle Schwarber, struggles of Jason Heyward, and overall underperformance of the Cubs, Chicago could be in the market for a veteran corner outfield bat, specifically a rental. Granderson, a free agent this coming winter, would be an ideal fit for the Cubs and could hit at the top of their order as they look to recover from a dismal first half.
In Thomas Hatch, the Mets would be acquired a polished starting pitching prospect who the Cubs selected in the third round out of Oklahoma State in 2016. The 6'1″ righty boasts a low-mid 90s two seamer and a potential plus slider. While his upside is not too dreamy, he has a decent chance to become a major league starting pitcher and perhaps a middle of the rotation starter if it all works out. Dakota Mekkes, the second piece in the deal, is a reliever who has an ERA south of 1 in his first full professional season. The 2016 10th round pick has been able to achieve this despite a largely mediocre arsenal and lackluster control. His fastball averages out at around 91 mph and is complemented by a high 70s curveball with below average spin and a low 80s changeup with decent sink. However, his 6'7″ frame and deceptive delivery give him a chance to continue to manage his way to success at higher levels of the minors. — Skyler Kanfer (@skylerkanfer)
Photo Credit: Brad Penner – USA Today Sports