Monday Takeaway
Last Monday, Jacob deGrom continued a string of excellent pitching performances. The number of the game was "8," as he pitched eight strong innings against the Padres, with eight strikeouts, for his eighth straight win. Try saying that three times fast. deGrom was also solid against the Mariners on Saturday, although he was visibly shaken after hitting Mitch Haniger in the face with a 95 mph heater. "It's not easy to forget about that," he told reporters. He pitched four more innings in the 10-strikeout effort, but the Mets' RISP woes led to a 3-2 loss.
As for Michael Conforto, the Seattle native put on an absolute show at Safeco Park. He entered the series swinging a hot bat, with seven home runs in 15 games since the All Star break. He left Seattle having dominated on both sides of the ball. On Friday, Conforto blasted two home runs in a 7-5 Mets victory. The next day, he played center field with what seemed like personal vengeance against Kyle Seager, robbing the All-Star third baseman twice with outstanding defensive plays.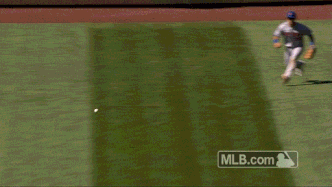 The Mets are almost assured of missing the playoffs this year. They needed to win every single game this week to have a fighting chance, and they might have done so if they were able to clone deGrom. This is not yet possible, so the likes of Chris Flexen and Steven Matz took the mound instead. The righty-lefty duo combined to pitch six innings, with nine earned runs, six strikeouts and four walks allowed, which sealed the deal for two Mets losses.
Quick Hits
Meet flamethrowing RHP Yoenis Cespedes, who may just take over the closer role if Addison Reed gets traded. He would be the third pitcher in MLB history to be 5'10 and 225 pounds, if the Mets ever let us have a little fun.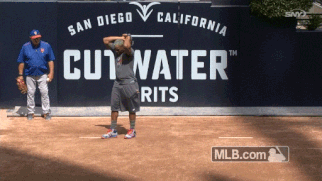 On Thursday, Cespedes the outfielder bounced a Little League Home Run (LLHR) down the right field line. Earlier in the night, he contributed a more traditional dinger to the Mets 6-5 victory, breaking his slump of 87 at-bats without a homer.
Below is the win probability chart from Tuesday night, which illustrates the back-and-forth nature of the game. The Padres had almost a 75% chance of victory after Allen Cordoba's home run, but Travis d'Arnaud's RBI single, Asdrubal Cabrera's RBI double, and the aforementioned LLHR made the difference.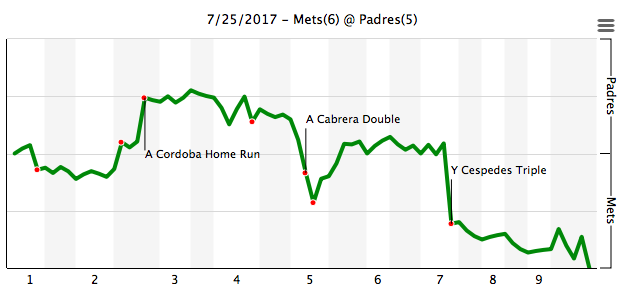 James Paxton shut down the Mets on Sunday with 8 strikeouts in 6 scoreless innings. Meanwhile, Seth Lugo struggled from the offset, giving up early homers to Nelson Cruz and Leonys Martín.
Trade Buzz
Mets first baseman Lucas Duda was traded to the Rays on Thursday for minor league pitcher Drew Smith. Smith was drafted by the Tigers in the third round of the 2015 MLB draft, and was later included in the trade that sent Mikie Mahtook to Detroit. In 79 relief appearances, he is 5-4 with 1.80 ERA, 13 saves and 40 strikeouts. The 23-year-old righthander has been assigned to Double-A Binghamton.
With the Duda deal, the Mets became deadline sellers, right? Wrong. Their next move was to acquire RHP A.J. Ramos from the Marlins in exchange for minor leaguers Merandy Gonzalez and Ricardo Cespedes. Ramos has had a down year so far, with a 3.63 ERA, 3.91 FIP and 1.31 WHIP in 40 innings. On the other hand, he arrives in Queens with another year of control. This deal indicates that the Mets are serious about contending in 2018.
Addison Reed remains the Mets' prize trade chip. Trade rumors have been swirling, but Buster Olney reports that "bidding on Addison Reed [is] down to about five possible suitors, Red Sox among them."
We Followed Lucas Duda
Chances are that you know and love the "We Follow Lucas Duda" Instagram account. Curated by Curtis Granderson, the page features Duda bat-flipping a golf club, Duda as a Lego action figure, and Duda the cowboy.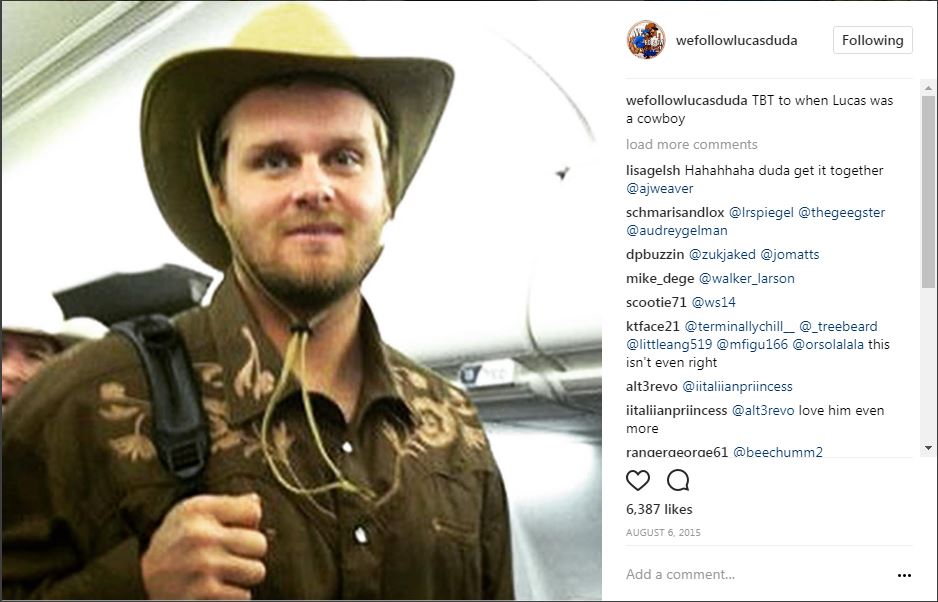 Although the erstwhile Mets first basemen now wears Tampa blue, that doesn't mean the Instagram is doomed. Granderson traded the account to the Rays in exchange for donated tickets to a charity in the St. Petersburg area.
Injury Update
Matt Harvey is making progress on his rehab assignment. The initial diagnosis was a stress reaction in his right scapula, but according to the New York Daily News, "it was later revealed that Harvey was having trouble building up strength in the muscle under his scapula bone after surgery to address Thoracic Outlet Syndrome." He is tossing at 150 feet and will gradually begin throwing from a mound.
Zack Wheeler returned to the DL on July 24 with a stress reaction in his right arm. The Mets announced that the injury was specific to his humerus, which is the bone that extends from the shoulder to the elbow Wheeler described it as "bone soreness," adding that, "I'm not going to be dumb and try and pitch with something that will hurt me after missing two full seasons."
José Reyes left Sunday's game after being hit by a 98 mph fastball on his forearm. X-rays came back negative, but any long term injury could bring Amed Rosario to Queens even sooner than expected.
Photo credit: Brad Penner – USA Today Sports