Monday Takeaway
Remember last week, when the Mets traded away a veteran hitter, called up their top prospect, and suffered through a Rafael Montero start? This week was pretty much the same, give or take a few names. For one thing, the Mets traded Neil Walker to the Brewers. They also called up first baseman Dominic Smith on Friday, where he bounced his first major league hit up the middle for an single. The youth movement is underway. Last but not least, Montero took the mound for an inexplicable 23rd time this season to start against the Rangers. He gave up five hits, three walks, and four runs in three miserable frames of a 5-1 Rangers victory.
Apart from Dom's call-up, there were two bright spots. The first was Sunday's 6-2 win, where Michael Conforto and Curtis Granderson each contributed a two-run homer. Terry Collins marveled that Conforto has the chance to hit 30 home runs when he "wasn't even in the lineup in April," adding that it "speaks volumes." It certainly speaks volumes about Collins's decision-making.
The second highlight was Amed Rosario's first major league home run, a tiebreaking shot in the ninth inning of Friday's game. The 21-year-old rookie later said that "Even though I've had a bad couple of days, this really helps my confidence."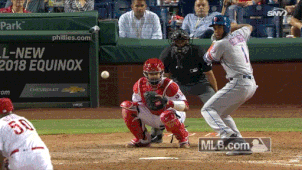 Neil Walker Traded to Milwaukee
Infielder Neil Walker was shipped to the Brewers on Saturday for a player to be named later.
Walker was almost traded to the Yankees on July 31, but the deal failed for so-called medical reasons. Mets officials allege that the Yankees backed out of the deal so they could pursue Oakland righty Sonny Gray. "I was healthy then, I am healthy now," Walker protested on Saturday.
Regardless, the Mets are cutting salary after trading Jay Bruce, Addison Reed, Lucas Duda, and now Walker, which is what really matters. The Brewers are also plugging up their second base hole, from which they've received a meager .264/.312/.442 slashline and 10 home runs.
The Mets may end up trading three veteran hitters in three weeks if they decide to trade Curtis Granderson. He's already cleared waivers, and his numbers are fantastic since May 15 (.284/.409/.567). His bat and "good clubhouse guy" reputation should be attractive to contenders seeking an outfielder. They'll never trade with the Nationals, but Bryce Harper injured his knee on Saturday…
Dom Smith Called Up
Last week, shortstop phenom Amed Rosario was called up from Triple-A Las Vegas. Before Friday's game in Philadelphia, the Mets finally promoted his teammate, Dominic Smith. The 22-year-old left-handed first baseman was mashing .330/.386/.519 with 16 HR in the hitter-friendly Pacific Coast League.
Smith was the 11th overall pick in the 2013 MLB Draft, and he was praised for an all-fields hitting approach. He's also considered an excellent defensive player despite his 6'0, 226 lb frame.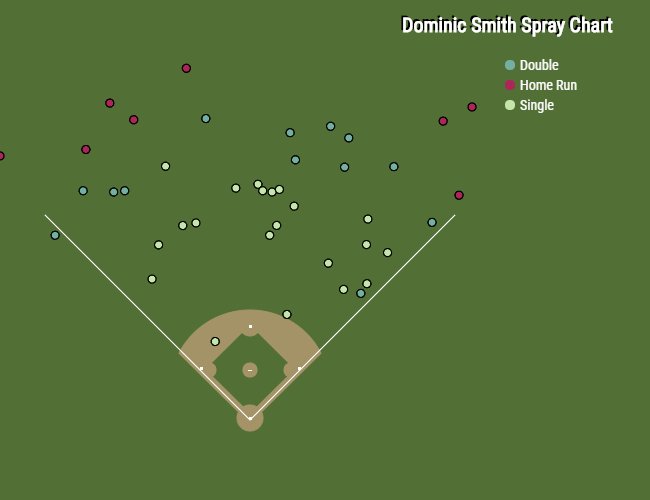 Evaluators disagree over whether his bat will play at first, though. Jarrett Seidler explores this in a recent prospect report: "One needn't go further than how cheaply Tampa Bay was able to acquire Smith's predecessor Duda to see how teams are valuing good but not elite superstar bats at the first base position these days, and it's hard to not count that against Smith's value as a prospect."
Smith joined the Mets Friday night against the Phillies, where his first major league hit was a single up the middle.
Injury Update
On Saturday, Matt Harvey took a big step towards returning to the Mets. He pitched a rehab start with the Brooklyn Cyclones, where he allowed a walk, a hit, and a run in one inning of work. His velocity was reportedly around 93 mph. "Obviously a little rusty, but I think that was kind of expected from me going in… The arm feels great, which is what the goal was to come up here," Harvey told reporters. Pitching coach Dan Warthen expects that he will pitch a side session in three days.
Jacob deGrom left Thursday's start with a bruised triceps, but he's expected to make his next start against the Yankees. The line-drive injury ended a dominant nine-strikeout effort against the Phillies. Since June 6, deGrom has gone 9-2 with a 1.42 ERA and 85 strikeouts.
Quick Hits
According to the New York Times, Dominic Smith was promoted when his Triple-A manager told him to come to the field to discuss Smith's "malfunctioning sleep apnea breathing machine." He later admitted to seeing through the ruse.
Tonight, the Mets begin their annual Subway Series against the Yankees. Michael Conforto entered last year's showdown with a .711 OPS, but this year he'll roll into the Bronx with a .968 OPS. In a statement dripping with enthusiasm, Terry Collins described the series as "games we have got to go play."
The Mets have also called up RHP Kevin McGowan, a reliever with a 4.06 ERA in Triple-A. He is a New Hampshire native whom the Mets drafted in the 13th round of the 2013 draft.
Photo credit: Eric Hartline – USA Today Sports