While Michael Conforto's early April debut was seen as a triumph after a devastating shoulder injury ended his stellar 2017 season, a complete power outage soon left doubts that he was – or maybe ever would be – fully recovered. But his midseason turnaround has been so compelling that, even in a short sample, it's clear the former first round draft pick is ready to reclaim his position as one of the most dynamic young talents in the game.
It wasn't all doom and gloom for Conforto early. He buttressed an anemic .216 batting average with a career-high 15.3% walk rate to keep his on base percentage at .344 through the All-Star break. His plate discipline overall was remarkably similar to that of prior years, including his superlative 2017, and his keen eye meant he wasn't exactly a black hole in a lineup that had plenty to compare to. But still, he was decidedly not the Michael Conforto of olde.
If the pedestrian home run pace wasn't enough of a giveaway, the batted balls told an ugly story. His 33.5% hard hit rate in the first half was the lowest of his career by a significant margin and his 43.3% ground ball rate was the highest. A classic pull-power hitter like Conforto has no business hitting the ball on the ground and fielding shifts ate it up for months, at the expense of his batting average and probably his sanity.
Unsurprisingly, this was a recipe for some ugly power numbers, the kind that raise questions about the long-term impact of an arm literally tearing out of the socket. Eleven home runs in the first half isn't terrible, but well off Conforto's career pace and he wasn't exactly lacing doubles to make up for it. His .150 isolated slugging represented both a career low and a legitimate concern that his reconstructed shoulder might never be strong enough to hit for above-average power.
Whether he was gradually healing over time (a theory supported by upticks in his hard-hit rate going back to the end of June and also by the organization's history with handling injuries) or he just needed some time off, Conforto has been busting out big time since returning from the All-Star break. His slash line in that time is a sizzling .316/.409/.570 – remarkably similar to his 2017 performance. And while a .931 OPS over four weeks may seem ripe for regression, there are plenty of peripherals that point to legitimate improvements in his strength and timing.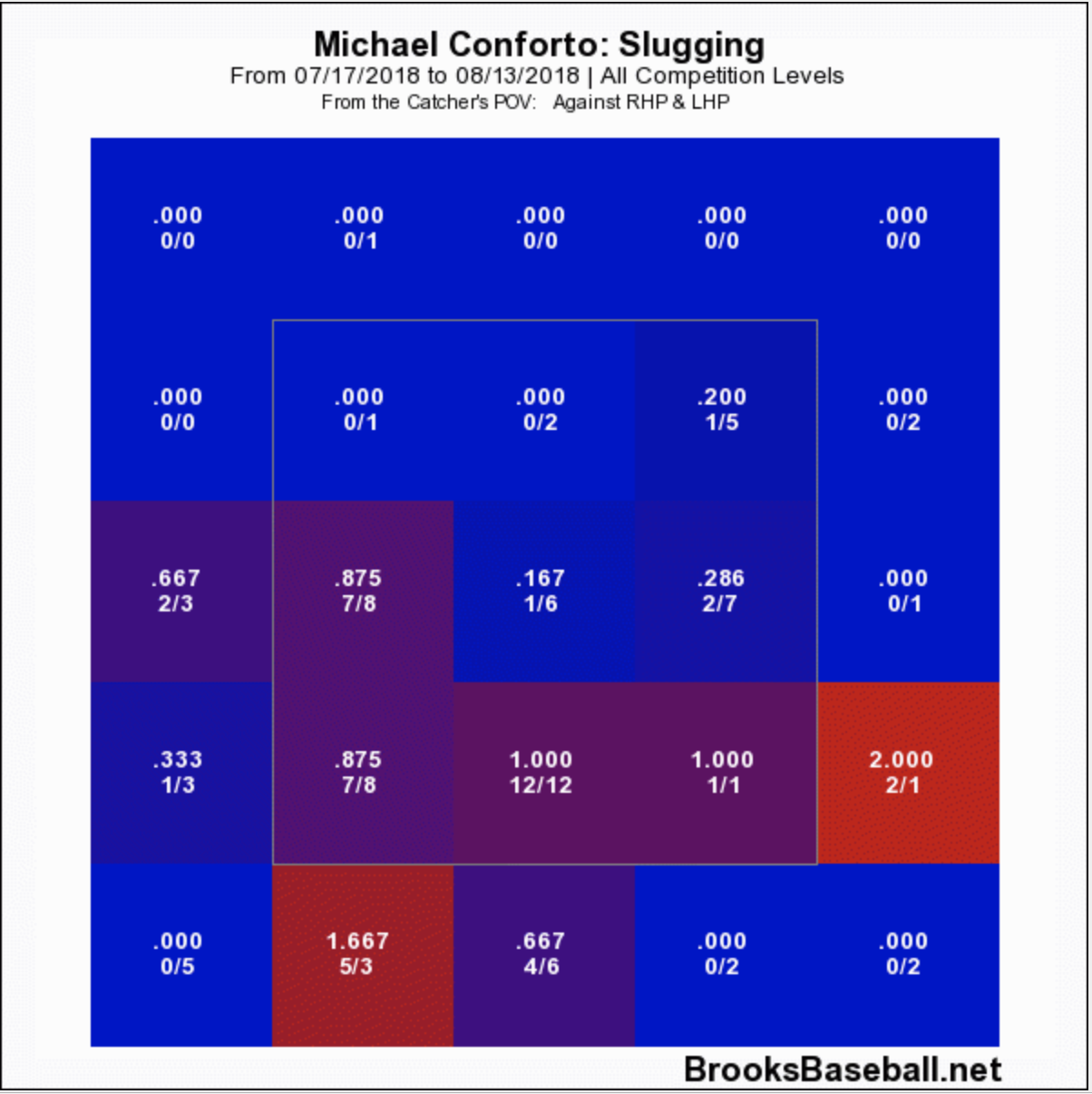 Even if the .380 BABIP might not hold up, the Mets don't need him to be a .300 hitter; they need him to be a potent slugger and therein lie the most positive developments yet. His hard hit rate in the second half is an astonishing 51.9%, an elite mark even assuming some regression. He's pulling the ball almost half the time and instead of poking weak grounders straight at the second baseman, he's rocketing them to – or beyond – the outfield.
Conforto's rediscovered success isn't changing his patient approach at the plate either. Sure, you'd like to see that 25% strike out rate drop, but that's been a part of his game since his debut and it's not going anywhere. He's seen his walk rate climb every year and while his second half 12.5% represents a slight drop off from the 15.3% that helped keep his head above water in the first half, it's a figure to be proud of, one that demonstrates his capacity to be an all-around elite hitter.
As the 2018 season heads into the home stretch, Conforto and the Mets can rest a little easier with the knowledge that reports of the star outfielder's demise were greatly exaggerated.
Photo credit: Brad Penner – USA Today Sports