When David Wright announced, "I've come to realize that it's best for me, my teammates and the organization to proceed with surgery at this time," Mets fans mourned the (hopefully transient) on-field loss of their captain. But some hope remains. You may not realize Yoenis Cespedes has a better True Average than Bryce Harper, Jose Altuve and Kris Bryant. Thor, deGrom, Bartolo, Matz and Harvey comprise the best rotation in baseball. Travis d'Arnaud is due back this week. Wright's surgery notwithstanding, the team has the fourth-best record in the National League.
While counting their Mets blessings, fans should include the local treasure that is Citi Field. The team hugely upgraded its concession stands this year, switching from Pepsi to Coke. You already know Citi Field has the best ballpark food in the country and an outstanding selection of local craft beer. What you may not know about Citi Field's greatness is revealed below. — Scott D. Simon (@scottdsimon)
Fan Fest
For families, or for adults who like Mr. Met and appreciate the opportunity to splurge on Mets-themed toys, the Fan Fest is a can't-miss. The activities (kiddie field, batting cages, dunk tank, and video games) appeal to a wide range of ages. A chance to meet the best mascot in baseball cannot be overrated. The staff is awesome and helpful and have seemingly boundless energy. The kids' clubhouse shop is packed with great stuff, including tchotchkes that appeal to adults and a candy buffet that appeals to everyone with taste buds.
It also features arguably the best food deal in the stadium — a hot dog, popcorn, juice, and small toy for $7.00. Anywhere else, you're paying $6.25 for just the hot dog. It's advertised as a kid's meal, but could definitely sate most adults. And you know you love a good apple juice as much as anyone. — Maggie Wiggin (@maggie162)
The Home Run Apple
To multiple generations of fans, it probably feels impossible to envision Shea Stadium without the Home Run Apple. However, the fixture did not debut in Flushing until the 1980 campaign. For the past 37 seasons, though, the Apple has greeted Mets homers at both Shea and Citi, from Lee Mazzilli to Michael Conforto and everyone else in between. It's almost always the first feature of the Mets' home that comes to fans' minds.
Entering play on Saturday, 2,506 Mets home runs have brought both the crowd to its feet and the apple to the surface. No Met has hit more home home runs than Darryl Strawberry, with 123, though David Wright is not far behind at 119. The apple at Citi Field is somewhat sadly not the same as the one that stood in center field at Shea for all those years. At least visitors can still take pictures next to the original outside the main entrance.
Regardless of which apple might be lying in wait behind Yoenis Cespedes, it remains my favorite part of Citi, even above Shake Shack –lofty praise indeed. And hey! It allows for fun quirks like the bandage following Travis d'Arnaud's NLCS homer. — Andrew Mearns (@MearnsPSA)
Shake Shack
Citi Field offers a plethora of excellent food, but nothing tops the simple yet delicious offerings from Shake Shack. While plenty of modern burger joints attempt to play off certain flavor themes — California burgers with avocado, watercress, and a healthy portion of smugness — Shake Shack just focuses on making a really fricking good burger. And the shakes, though overpriced and undersized like most ballpark food, are even better. When the product on the field is mediocre (like the current team, destroyed by injuries), the highlight of a trip to Citi FIeld is getting to Shake Shack early, grabbing a burger and shake before the crowds descend, and watching BP from the standing tables in the outfield. — Lukas Vlahos (@lvlahos343)
Mama's of Corona
Who doesn't love Shake Shack? If I get to Citi Field early enough, sometimes I'll brave the line and hope to make it back to my seat before the first pitch. But you can find a Shake Shack just about anywhere these days. Mama's of Corona is the unheralded gem of Citi Field. Located in the less-trafficked World's Fare Market section beyond right-center field, Mama's offers delicious Italian sub sandwiches and much more. I prefer the Mama's Special, which includes genoa salami, pepper ham, and fresh mozzarella on Italian bread. You can also get roasted peppers and marinated mushrooms, which only enhances the sandwich. It's big enough to split with another person if you are feeling generous. And that saves room for a Mets cannoli (as pictured below) for dessert.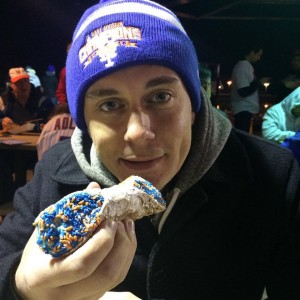 While you're still waiting in the Shake Shack line as the first inning begins, I'm already in my seat and completely satisfied. — D.J. Short (@djshort)
Shea Bridge
Going to a game isn't just about the players on the field, it's about the entire experience. When I go to a ballpark, I love to watch the game first and foremost, but I also like to move around a little bit. After spending a few innings in a standard seat, it's nice to get a different view, and the view from the Shea Bridge is pretty great for an outfield look.
Of course, there's also just a little nostalgia tied up in the idea of Shea Bridge. I had a lot of good memories of Shea Stadium as a kid, living in New Jersey. While the old stadium didn't have a lot going for it, it was home to the Mets for close to 50 years. And sure, the Shea Bridge just shares a name with the past stadium — not much more — but the name and style evoke the past memories of the previous half-century of Mets baseball. I'm a sucker for that as much as a great view. — Bryan Grosnick (@bgrosnick)
The 7 Train Into Citi Field
The 7 train has a bit of a bad reputation. Okay, it isn't entirely undeserved. The line is overcrowded even during off-peak hours. It probably isn't running into Manhattan on the weekend if the Mets aren't home. And the local never seems to be in a particular hurry to get anywhere, even when it is running normally. But I've been taking the train to the ballpark more over the last few years, and I love the palpable sense of anticipation as you check off stops and Citi Field gets closer and closer. Elmhurst…Junction…Corona Plaza…110th. A sea of blue and orange hats starting a "Let's Go Mets" chant. And of course, the Mets haven't played yet, so they haven't had a chance to disappoint.
I have had people try to buy my Buffalo Bisons Josh Satin jersey off me on the train. I've talked Mets baseball with total strangers, now good friends for twenty minutes. I never saw John Olerud, but I like the idea that I could have seen John Olerud.
And anything that is good enough for John Olerud — and pisses off John Rocker — is good enough for me. — Jeffrey Paternostro (@jeffpaternostro)
The Planes Flying Overhead
After a few weeks in my apartment I started noticing this weird buzzing sound as I tried to go to sleep. I had no idea what was going on. The sound kept me up for hours. The next night? Nothing. But the night after that the weird sound was back. It turns out I have the only apartment in the neighborhood with crickets outside. Now, whenever I hear the crickets it reminds me that I'm in my goofy home and there's no place like it. Strange as it may sound, the planes flying over Citi Field give me a similar feeling. Through good times and bad, those planes are the unique stadium sound that carried over from Shea. It's how I know I'm watching a game at (roughly) the same place where my mom and dad took me to my very first baseball game over 30 years ago. — Noah Grand (@noahgrand)
The Fans' Absurd Heckling
All right, all right, I'll admit it: I've only attended one game at Citi Field. This isn't really my fault: I live over six hours away and it's probably the seventh- or eighth-farthest MLB stadium from my home. But on a late July night during an internship in New York City, my friends and I took in a game against the Dodgers. We sat up in the 500-level, and what stuck with me most was how frequently and absurdly fans would heckle the players — even from the seats farthest from the field. This is by no means a scientific evaluation — again note this was my lone trip to Citi — and it very well may have been pure chance who we sat near, but the heckling was never mean-spirited. No, instead, our fellow patrons brought out their verbal versions of the Hunter Pence signs of 2014. "Comb your hair!" was a delightful highlight. I hope to visit Citi Field again soon and have the fans prove that this was not an anomaly, but instead the fun and colorful language of the hecklers who know they can't be heard levels below. — Brian Duricy (@briansusername_)
The Anticipation of Visiting for the First Time
While taking a seminar a few years ago, my professor gave just about the most convincing recommendation I could think of for a book. Regarding Wallace Stegner's Angle of Repose, he said, "For those who haven't read it, you are so, so lucky to still have that in front of you." I immediately got the book, but I was hesitant to begin reading it right away. Why would I mistreat the fortune I apparently had, even though I didn't know I had it? I set the book aside for a while so that I could at least gain pleasure from the anticipation. The book ended up being a joy to read.
The best part of Citi Field is that I still have it in front of me. I don't know when I'll make it there for the first time, but I know I will. That in itself is pretty satisfying. — Eric Garcia-McKinley (@garcia_mckinley)
The 500-Level Seats
When I was working on my first book, I'd sometimes take the 7 train out to Citi Field to be alone. I'd buy a ticket in section 504 and watch the Mets play and the sun set, sometimes writing, sometimes just thinking. Being there cleared away some of the writer's block anxiety. Plus, I didn't have air conditioning and there's a nice breeze at the top.
In 2015 I stood screaming at the very top row of 524 while watching the Mets beat the Cubs in one of the NLCS games. I'd lucked out; a friend had an extra ticket I'd otherwise never have been able to afford. No writing there, just hours of toweling and cheering and trying not to freeze amidst the excitement of October baseball.
For the regular fan, too, the 500-level seats have a variety of perks — besides being cheap, the lines for the bathrooms and food are shorter up there, and when you're up high enough there's a little overhang if it starts to rain. — Sara Novic (@novicsara)
The Ticket Services Office
The what?! Not the will-call window or the ATM-like ticket kiosks or the advance-ticket window, the Ticket Services Office is practically hidden to the left of security as you enter the Jackie Robinson Rotunda. Accessible from both inside and outside the gates, the Ticket Services Office houses the nicest, friendliest Citi Field employees not wearing a mascot's costume.
These folks' job is to put you at ease in a dire situation. Let's say your buddy's visiting from out of town, and the first place you'll meet is at the Mets game. You mailed your friend's ticket weeks ago to ensure receipt. On game day, your friend texts to say the ticket is lost, forgotten, or consumed by a rogue toddler. All is not lost! Simply enter the Ticket Services Office, explain what happened (it helps to show your ticket so you can identify the section/row/seat of the missing one) and — voilà — a new ticket can be printed on the spot.
That's not all! Active military personnel can visit the Ticket Services Office starting two hours before first pitch on Monday-Thursday games for a free ticket (subject, writes the lawyer, to availability). Also, if your tickets are at will-call but you show up way late to the game, say after the top half of the fifth inning, Ticket Services will search for your tickets and still let you in. Ticket Services Office the best. — Scott D. Simon (@scottdsimon)
The Space Occupied by David Wright
When Citi Field opened in 2009, Wright was coming off a pair of beastly seasons (8.0 WARP in 2007 and 7.8 in 2009) at age 24 and 25, respectively. But he's never reached that level again. It was popular to blame his down year in 2009 on Citi Field's cavernous dimensions, particularly in right field. Following the season, the Mets moved the fences in — certainly in part to help Wright. They did so again in November 2014, and again Wright was pleased.
Wright's relationship to Citi Field is a little odd. His best years took place before it opened. However, he was the best reason to go watch the Mets in their first half-decade at Citi Field. Wright was excellent in 2010 and 2012, while the Mets were in the midst of six straight losing seasons. There is a cruel irony in the way that he is so diminished just when the Mets' pitching staff is ready to win. Ask me again in few years, and I will have a new favorite feature of Citi Field, because Wright no longer will be an active part of the Citi Field experience. — Toby Hyde (@tobyhyde)
Photo Credit: Brad Penner-USA TODAY Sports