Monday Takeaway
The Mets began their week with a home series against the Phillies. For the third start in a row, Rafael Montero pitched well enough to give them a fighting chance. His career-high scoreless innings streak was snapped at 12 innings, but he allowed four runs over 5.1 frames. The Mets also exploded on offense to score 11 runs against beleaguered Phillies pitching. Mark Leiter gave up nine hits and eight runs over 3.1 innings, including homers to Jose Reyes and Asdrubal Cabrera, and the Mets tacked on runs against relievers Kevin Siegrist and Jesen Therrien.
On the other hand, Tuesday's contest was a miserably one-sided affair. The Phillies feasted on Jacob deGrom, who turned in the worst performance of his career with nine runs allowed over 3.2 innings. "No excuses," deGrom said after the game. "I was just terrible tonight." You obviously can't predict baseball, because Phillies righty Ben  Lively pitched seven strong innings, then helped himself secure the win by going 2-4 with a homer. Notably, Phillies shortstop JP Crawford made his major league debut– his first hit was a single.
On Wednesday, the Mets were fantastic in six rain-shortened innings. Robert Gsellman pitched six strong frames, allowing two earned runs. "The weather and the conditions maybe started to get a little rough," Terry Collins said. "But I really thought the command of [Gsellman's] pitches tonight was the best I've seen him this year." Travis d'Arnaud backed him up with a two-run homer in the first, Jose Reyes stayed hot with a single, and Gsellman contributed an RBI single as well. 6-3, Mets.
Matt Harvey avoided comparisons with last Saturday's miserable start in Houston by pitching five decent frames against the Reds. "The swings and misses will come, the velocity will come, but I just wanted to get five innings," Harvey said post-game. Terry Collins agreed that it was "a huge step forward for him." Brandon Nimmo also enjoyed a good night, as he had his first career two-homer game. One of the home runs came immediately after Juan Lagares's fifth inning blast.
As we slog through another interminably long and unforgiving season of Mets baseball, it's hard to resist thinking about what could've been. If the heralded starting rotation and the lineup managed to stay healthy, where would the Mets be right now? Surely not languishing at the bottom of the standings, fighting the Phillies and Giants for the best draft pick. Friday's game offered a glimpse of this fantasy. Thor may be sidelined with a lat strain, but young righty Seth Lugo pitched six shutout innings in his staid. David Wright may be undergoing surgery, his playing future clouded with doubt, but veteran infielder Jose Reyes lined a homer into the stands to give the Mets a 4-0 lead. Even A.J. Ramos joined the fun by closing out his 27th save of the year.
Kevin Plawecki's second inning homer led the Mets to 6-1 victory on Saturday. Rafael Montero was quite lucky; the righthander walked five and allowed four hits, but he stranded eight baserunners between the second and fifth innings. "We had a lot of opportunities against Montero, and we didn't do anything with them," said Reds manager Bryan Price.
The Reds ran away with a comeback win the next day. The score was tied 5-5 in the eighth inning, and outfielder Scott Schebler was ruled out at the plate on Tucker Barnhart's go-ahead double. However, the Reds successfully challenged the play and went on to score five more runs.
Another One Bites the Dust
Days after infielder Wilmer Flores fouled a ball off his face, the Mets announced that he will be out for the season with a broken nose. Team doctors shut him down due to concerns about the nose healing correctly. Flores also said that he was having trouble breathing through the nose, and was understandably worried about the possible repercussions of being hit again.
Before the injury, Flores was enjoying a resurgent season. In 110 games, he hit .271/.307/.488 with eighteen home runs. Eleven of these homers came against righties, although he has a reputation as a left-handed specialist. Flores further impressed Terry Collins with his defensive flexibility, as he ably moved from second to short to first. "I really liked him around the bag, he has good hands, he has a strong arm," said the Mets manager. He added that Flores played "exceptionally well" at first base, which "comes down to comfort level."
Dodging a Bullet
Pitching Matt Harvey on short rest was a terrible idea. The right-hander was shut down in June with a stress fracture in his scapula, and he has gone undergone two major surgeries – Tommy John and thoracic outlet repair – in the past three seasons. Further, Harvey has never pitched on three days of rest in 96 career starts.
Which is why Mets fans reacted in horror on Tuesday when reporter Steve Gelbs tweeted that "Matt Harvey will start on Wednesday on short rest. TC says he wanted to get back on the mound as soon as possible." Mets GM Sandy Alderson retrospectively said, "It was Matt's idea, and the manager and pitching coach endorsed it. So I was OK with it." With four Mets players getting season-ending surgery in the past week, this team can't afford another catastrophic injury. Thankfully, Terry Collins changed his mind and started Harvey on a normal schedule.
Quick Hits
Amed Rosario was diagnosed with a right finger contusion last Sunday and took a few days to rest up before a pinch-hitting appearance Saturday and a return to the lineup Sunday.
Mark W. Sanchez sums up the Mets' minor league system in this New York Post piece. He explains that "more problems this year stemmed from injury than ineffectiveness," as top pitching prospects Thomas Szapucki and Jordan Humphreys underwent Tommy John surgery midseason. He also awards Amed Rosario with "Player of the Year," Corey Oswalt as "Revelation of the Year," and Peter Alonso as "Comeback Player."
Mets rookie Phil Evans had a pinch-hit double in the fifth inning of Saturday's game for his first major-league hit. The second baseman from Carlsbad, California, was hitting .279/.341/.418 with 11 home runs in Triple-A Las Vegas.
Defensive Play of the Week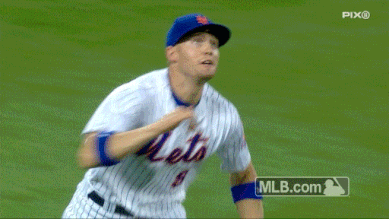 Nimmo lays out for a catch against the Reds.
Photo credit: Andy Marlin – USA Today Sports