Monday Takeaway
Another week goes by, and the New York Mets have played yet another series of unimportant games. They first traveled to Chicago for a three-game series, where they were outscored 39-14 by the lethal Cubs offense. "We certainly got them ready for the Cardinals," mused Terry Collins. Next up was the Atlanta Braves, whom the Mets mathematically eliminated from playoff contention by winning two of three.
Wednesday was a dark night for the Dark Knight, as the former ace allowed eleven baserunners and five runs over only 3.1 innings. He repeatedly emphasized his frustration post-game. "It's hard going out there and not doing what I can to help this team win. All in all, it's just extremely frustrating. That's all you can really say about tonight," he told reporters.
The Mets sought redemption on Thursday night by scoring four times in the first three frames, capitalizing on rookie Jen-Ho Tseng's jitters. The Cubs' fearsome offense retaliated by pummeling Seth Lugo. By pummeling, I mean "reaching base 10 times in three innings and scoring eight runs."
Despite their bleak win-loss record, the Mets' young stars shone brilliantly this past week. Dom Smith mashed three homers and reached base at an .435 clip, Amed Rosario hit .389, and Brandon Nimmo played sparkling defense in left field. Even Robert Gsellman pitched well against the Braves on Sunday. If there's one thing I've learned, it's that looking on the bright side is essential.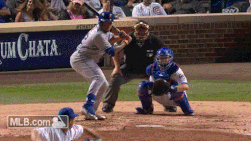 Darryl Drama
It's been an eventful week for Darryl Strawberry, and that's an understatement even mightier than "the Mets have had a lot of injuries this season."
The former star right fielder blasted the Mets on two different radio shows. He made his first appearance on WABC Radio's "Bernie and Sid," where he expressed his preference for the Yankees over the Mets. "The players on the '86 championship team, we don't even deal with the Mets. It's not Fred Wilpon, it's the new thing," he said, referring to current club ownership. "I'd never go back. I'd rather stay with the Yankees than ever go to the Mets."
Strawberry landed an even harsher blow on Thursday. Speaking with Mike Francesa on WFAN Radio, he said that "it's not the players, it's not the fans, it's not Sandy and the new regime. It's the ownership. It's the ownership." He then emphasized that he had completely severed his relationship with the Mets organization.
Despite basking in a frenzy of media coverage, Strawberry was most certainly not finished. On Wednesday, he showed up on the Fox Business channel to admonish athletes for being outwardly political. "I would tell them, really leave the politics alone as far as your job," Strawbery said. He then undermined his own advice by calling President Trump "a great man."
Tebow in Review
Now that the minor league season has come to a close, many are evaluating the Mets' signing of Tim Tebow. Is he a legitimate baseball player? Can he help the major league team in the future? Was he worth it?
Yes, probably not, and yes. The former Heisman-winning quarterback worked his way up to the Double-A Port St. Lucie Mets by hitting .226/.309/.347 with eight home runs. By no means is Tebow a top prospect, even within organizational parameters, but he wasn't an absolute disaster.
Tebow may never become a major league contributor, but he has done his part to benefit the Mets organization. A recent ESPN article labels him "the greatest value in minor league baseball" since Michael Jordan. In exchange for Tebow's $10,000 salary, the Mets' Class-A Columbia Fireflies experienced a 21% increase in attendance, while the St. Lucie Mets had a 37% increase of 35,803 fans. Baseball America also estimates that he was worth about $1.6 million in ticket sales, merchandise, parking, and other revenue.
Mets Fan Gains Notoriety for Thumbs-Down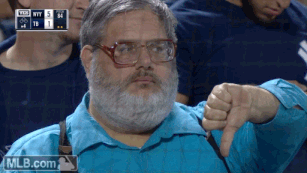 On Monday night, the Yankees played the Rays at Citi Field because the Trop was out of commission. In attendance was 54 year-old Gary Dunaier, a self-described Yankees hater and die-hard Mets fan. Mr. Dunaier became an internet legend after his thumbs-down response to Todd Frazier's three run homer, which was later reclaimed by the Yankees as a rally symbol. "When I read — and reread — the accounts of how the Yankees have taken my expression of disapproval and turned it around to something positive for them, I get a big kick out of it," Dunaier told The Associated Press
He later explained the thumbs-down as an act of desperation. "I was surrounded by a sea of Yankees fans," Dunaier said. "I knew if I booed, it wouldn't get heard. It would get drowned out by all the cheers. So I realized the players when they head back to the dugout would be heading in my direction. I just came up with the spur-of-the-moment idea to just stand there with the thumbs down."
Quick Hits
The Mets are planning a fundraiser for the victims of Hurricanes Harvey and Irma. The relief drive will take place at Citi Field, collecting items such as canned food, water bottles, toiletries, diapers, and cleaning supplies. These items should be dropped off at the Jackie Robinson Rotunda on Tuesday, Wednesday, and Thursday. From there, the donations will be delivered to a community outreach organization in Fort Pierce, FL and the Houston Food Bank in Texas.
Major League baseball released team schedules for the upcoming 2018 season. Notably, the Mets open the season with a six-game homestand on March 29th. Their interleague series, notwithstanding the Yankees, include the Blue Jays, Orioles, and Rays. They also close the season by playing 20 out of their last 23 games against NL East opponents (hopefully, this will be meaningful baseball).
On Wednesday, Sandy Alderson told the New York Post that the Mets will stick with their strength coach despite a slew of player injuries. "Mike [Barwis] is not going anywhere," Alderson said. He also dispelled the misconception that Barwis was responsible for Noah Syndergaard's ill-fated offseason training.
Courtesy of Mets reliever Jerry Blevins, the entire team was outfitted in male rompers before their series in Atlanta. Light teal, pink, white, black, and a blue shade verging on purple… See for yourself.
….rompers…. pic.twitter.com/TNVBRPmoPF

— Kevin McGowan Jr (@kevinmcgowanjr) September 15, 2017
Injury Update
Early this week, Noah Syndergaard will face batters in a simulated game. The Mets organization seems to be concerned that he will return too quickly. "We're just trying to do it the right way, without rushing," said Terry Collins. "There's no reason to rush, so we're just going to make sure we take baby steps." He explained that facing hitters requires extra effort, and Syndergaard may overexert himself by trying to prove his readiness.
Both Amed Rosario and Travis d'Arnaud exited Thursday's 14-6 loss to the Cubs. In the first inning, Rosario slid into second base awkwardly. He remained in the game until the fifth. Later, he reflected that the tight left hip flexor was "maybe a little annoying," but nothing severe.
d'Arnaud injured his knee in the second inning while fielding Taylor Davis's grounder, and he, too, remained in the game for four more frames. Thankfully, both Mets returned to the lineup on Friday for a 7-3 victory against the Braves.
Gif of the Week
Brandon Nimmo, Juan Lagares, and Nori Aoki share a triumphant bow in the outfield.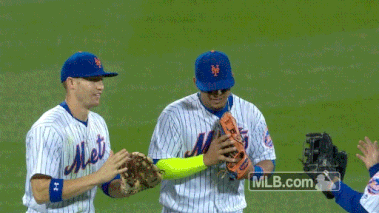 Photo credit: Brett Davis – USA Today Sports